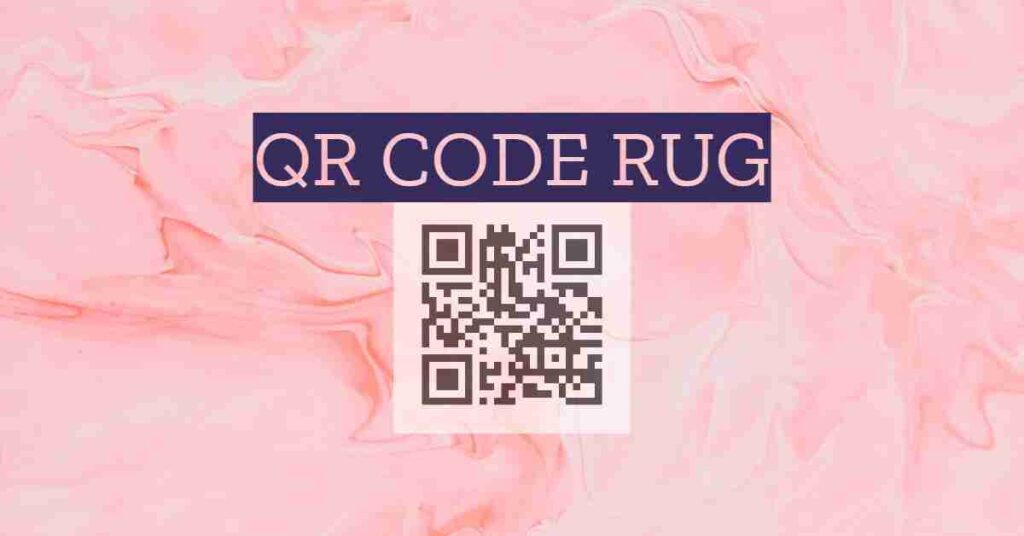 Handmade Custom QR Code Rug
What Is A QR Code Rug?
A rug QR code is a QR code printed on a rug. The rug's QR codes are two-dimensional barcodes scannable using a smartphone camera and a QR code reader app. When a QR code on the rug is scanned, it takes the user to a specific website.
What Material!
100% Worsted Wool.
The best QR mat/rug is always woven in high-quality wool. Good quality wool is soft, velvet, and durable.
What Style!
Woven in Hand Tufted Style
Hand-tufted wool rugs are known for their affordability, durability, and quality. Learn more about hand tufted style rugs.
What Size!
Minimum of 4×4(ft.)
The ideal size is one in which the QR code of the rug can be easily scanned while standing a little away from it. Woven in Hand Tufted style.
Types of Usable QR Code For Rugs
Official Website Link
Payment QR code Link (Google Pay, PhonePe, etc.)
Social Media Link (Facebook, Instagram)
Text/SMS Message
Compose Email
Image/PDF/MP3 Links
Where To Use Barcode Rug / QR Code Area Rugs?
Depending on the context and the information you want to share, there are many other potential uses for QR codes on rugs. Here are a few places to use QR codes rugs:
In a retail store or showroom: A rug with a QR code on it could be placed in a store or showroom to give customers more information about a product or service. Customers could scan the rug's QR code with their smartphone to access additional details, images, or videos related to the product or service.

Hang on a wall: Hanging your scannable QR code area rug on your office or shop wall is a great way to add an informational element to the decor. Learn more on how to hang a rug on the wall.

In a museum or exhibition: A QR code rug could be placed in a museum or display to give visitors more information about a particular exhibit. For example, a rug with a QR code placed in front of a painting could give visitors background information about the artist or the time the painting was created.

In a home or office: A QR code rug could be used to provide guests with information about the occupants of a home or office, such as contact information or a list of frequently asked questions.

In a public space: A rug with a QR code could be placed in a public space, such as a park or plaza, to provide visitors with information about the area or to promote local events or activities.
What Do I Use To Scan QR Code On Rug?
You can use a smartphone or tablet with a camera and a QR code scanning app to scan a QR code. Here is how to scan a QR code using an iPhone or Android device:
Download and install a QR code scanning app from the App Store (for iPhone) or Google Play Store (for Android). Some popular options include QR Code Reader and Scanner by Kaspersky, or any other available online.
Open the QR code scanning app and point your device's camera at the QR code you want to scan.
The app will automatically detect the QR code and display its contents on your screen.
Alternatively, you can use a computer to scan a QR code by using a webcam and a QR code scanning website or software. To do this, follow these steps:
Go to a QR code scanning website such as QR Code Reader or QRStuff.
Allow the website to access your webcam.
Hold the QR code in front of your webcam and wait for it to be scanned.
The website will display the contents of the QR code on the screen.
Conclusion
There are many possible uses for QR code rugs, and they can be an effective way to engage with customers or attendees in a digital age. But first, it's important to make sure the code is well-made and that the content it leads to is current and relevant.
FAQ
Can you print a QR code on fabric or rug?
Yes, patterns featuring QR codes can be embedded in rugs and used in various places, such as homes, offices, and public spaces.
Where should I place a barcode rug?
Ideally, use a QR code mat for the doormat, hallway, wall hanger, homes, shops, offices, and public spaces.
What material and style is the QR code rug made of?
A QR, or barcode rug is made in the most popular style of rug making, which is hand tufted. While worsted wool is more expensive, NZ wool is also very soft.