Kilim dhurrie rugs are popularly also known as flatweave rugs in the west.
The tribal kilim rugs are developed using traditional weaving tools, including knife/scissors and a metal beating comb.
The bottom of a kilim is of weft threads, and the pattern appears once as they return. When the yarn returns, it creates a small gap. This technique makes the traditional step-like pattern that characterizes flat weave rugs, and the rug looks the same on both sides.
Faisal International uses a variety of natural materials in the manufacturing of flat weave kilim area rugs. These dhurrie rugs popularly come in wool, jute, hemp, cotton, sisal, and all have their privileges and purposes. For a little finer kilim area rug, a touch of silk looks fantastic.
Flatweave rugs do even more wonders when made in a blend or combination of various fibers. Some trendy blends are:
Wool + Hemp,
Bamboo silk + Hemp,
Silk + Jute,
Wool + Silk + Hemp & others.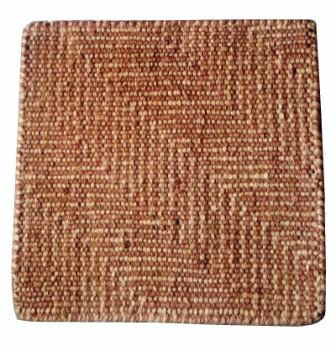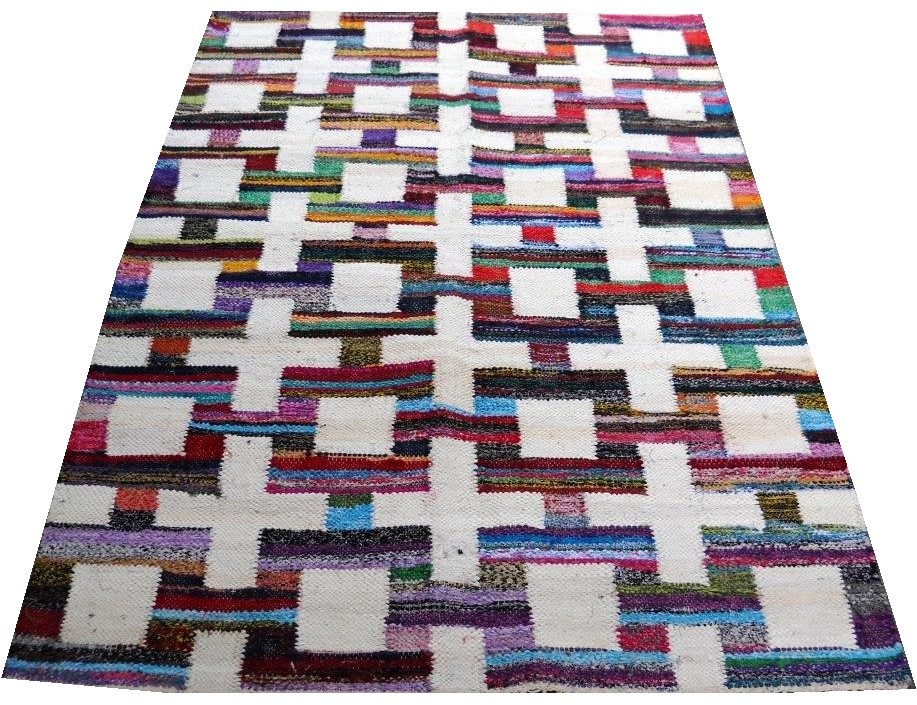 Difference Between Kilim And Dhurrie Rug
Both are flat woven rugs and serve equally the same purpose. They both are decorative, durable, and affordable.
The difference between the two is in the origin of production and their design pattern and colors.
Flatweave rugs have bold colors, pastel, pale colors, mostly epical and geometrical and floral patterns. They may also carry animal and human figures.
To some great extent, the designs and colors determine the difference between the two rugs.
Dhurrie rugs (pronounced as 'dari') are sometimes also spelled as 'dhurry.' and are traditionally used in India. Dhurrie rugs are native to India, and its subcontinent Pakistan, Burma, and Afghanistan. These loom woven carpets techniques have a history and followed for centuries.
The word 'kilim' means a rug without a pile. Persian kilim rugs are native to Turkey and produced in the same flat-woven technique as the Dhurries. They are handwoven bearing traditional tribal designs and symbols. They carry the styles of the ancient nomads.
There are basically 4 types of kilim rugs made in India. The smallest change in the weaving technique does make a difference and forms an entirely new rug piece different from each other.
Plain weave: The plain-weaving technique is the most basic kind of flat rug made in India. This rug weaving technique will create an even and regular gap between the weft and the wrap.


Slit weave: The popular flat weave rugs are created using the slit-weave technique where the weft goes around the last color of the wrap. They are ideal for weaving geometric pattern rugs. The finish gives a smoother texture, and the front design pattern mirrors its backside; hence these rugs are reversible.


Brocading: This is the weaving technique to play around with new and innovative designs and patterns. There are extra popping wefts added, which form different patterns and look to the rug.


Interweaving: As the name suggests, this technique of weaving is where the strands of the warp and the weft are tightly interwoven. These rugs have no pile height and are the most common kind of dhurrie rugs.


Soumak Weave: This rug weaving technique involves using mathematical patterns to develop more intricate designs. It takes more time and effort in developing Soumak rugs.
Benefits Of Using Flat Weave Kilim Rugs
Flat weave rugs have been in use for centuries and much appreciated for reasons that make them the ultimate flooring:
Affordable

– They are inexpensive compared to other types of handmade rugs.

Wool kilim rugs

are definitely expensive yet much cheaper than the

hand

knotted

oriental

rugs

or the

high end rugs

with thick piles.


Portable: Lightweight makes it easy to roll the rug by a single person and is easily carriable from place to place.


Placement:

They are ideal for use in both – indoor and outdoor as well. [Many interior designers get more creative with kilim area rugs by hanging them on the wall instead of framed pictures to create an oriental atmosphere in their homes.]

A

kilim dhurrie runner rug

is simply the best for placing in kitchens, hallways and entryways.


Reversible

: One of the most significant advantages of

flat weave rugs

is that most of them are double-sided and so when it gets dirty, turn over, and you have a fresh one.


Durability: The reversibility feature of the rug increases their lifespan. It is easy to clean at home and does not need professional cleaning. Yes, these are the rugs that you can clean in your washing machines too.


Easy to clean: They do not have long hairy piles so cleaning a Dhurrie is like cleaning your jeans pants except for its texture is thicker than those of the jeans.


Get creative: Since they have short piles and are soft carpets, many use them as mattress covers. Having a very flat and light structure, they also make a fine curtained door.
Uses And Value Of Kilim Rugs
Globally there is a high demand for kilim dhurrie rugs as they are ideal for modern and minimalist interiors. Kilims also find their way into so many homes due to their wide range of uses, including:
Kilim cushions
Kilim curtains
Kilim bedspreads
Kilim poufs
Picnic blankets
Kilim tents
Kilim furniture
Kilim shoes
Kilim shawls and jackets
Durability Of Kilim Dhurrie Rugs
The durability of dhurrie area rugs depends on the type of material of the carpet. As discussed above, kilim dhurrie rugs are handwoven in most types of rug materials.
Wool is known for its fine quality and is primarily used for kilim rug production by most carpet manufacturers.
Are Flatweave Rugs Reversible!
Flat weave rugs take an effort to hand weave some fantastic patterns and designs. The hardship of weaving flatweave rugs pays double the worth. Do you know how? It is because they are reversible. It all means that you can use both sides(front and back) of the area rug equally.
The weaving technique of dhurrie rugs is such that the design mirrors its backside too and hence serves a significant advantage over other types of rugs.
So next time, when your rug gets dirty or stained, flip your rug to the other side. The moment you flip to the back portion, you get a fresh and literally new rug.
Can You Wash Dhurrie Kilim Rugs?
Every rug or carpet is washable, and it is the fiber that determines the intensity of wash the carpet/rug will require. One must consider a sloped surface outdoors for washing a flatweave rug as it makes much sense and is convenient since the water does not keep coming back to the rug; instead, it drains down the slope. Hence, avoid flat surfaces also because over-soaking may result in the color fade.
Cleaning Of Flat Weave Area Rugs
Kilim dhurrie rugs come in various materials, including jute, sisal, wool, viscose, and many others. Each fabric may require a different cleaning method, as it does not carry the same texture properties. Fibers like jute and viscose, for instance, refrain from getting wet. 
Follow some of the primary ways to wash a Kilim Dhurrie rug at home.
Washing Process Step By Step
Easy to clean compared to pile rugs as they do not have long hairy piles.
First, begin with sweeping the rug and then vacuum it. Never forget to vacuum periodically. A carpet gets 40% of the dust and loose debris removed only by vacuuming from time to time.

Be careful with liquid spills; respond instantly to clean them by blotting the stain with a white cloth or paper towel.

Make use of baby shampoo and cold water to wash it. Scrub with gentle hands or, if needed, use a brush with soft bristles.

For stubborn stains, use detergent for better results. If the color seems to fade away, continue with any mold shampoo.

For solid stains like dog poop, etc., first, scoop out the solid from the rug. If it has dried out, gently scratch it out using a pointed object.

Pour enough water to drain out the shampoo completely. Dry it in sunlight but not for too long
Warning
Never use vinegar and baking soda together for cleaning purposes.

Avoid viscose fabric rugs and jute rugs from moisture as much as possible.
Can Flatweave Rugs Be Cleaned In The Washing Machine?
Yes, flatweaves are machine washable rugs. Unlike the piled rugs that are also comparatively heavier, one can wash a flatweave rug in a washing machine. It's one of the most vital advantages of these incredible no-piled, lightweight rugs. However, larger size rug pieces will need larger and spacious machines to whirl the Dhurry within it easily.

Note: DO NOT wash jute rug in the washing machine, they rather ruin badly than any good and the damage done is irreversible.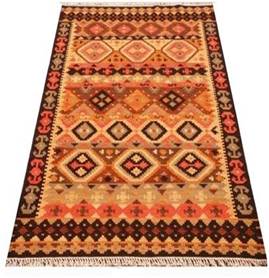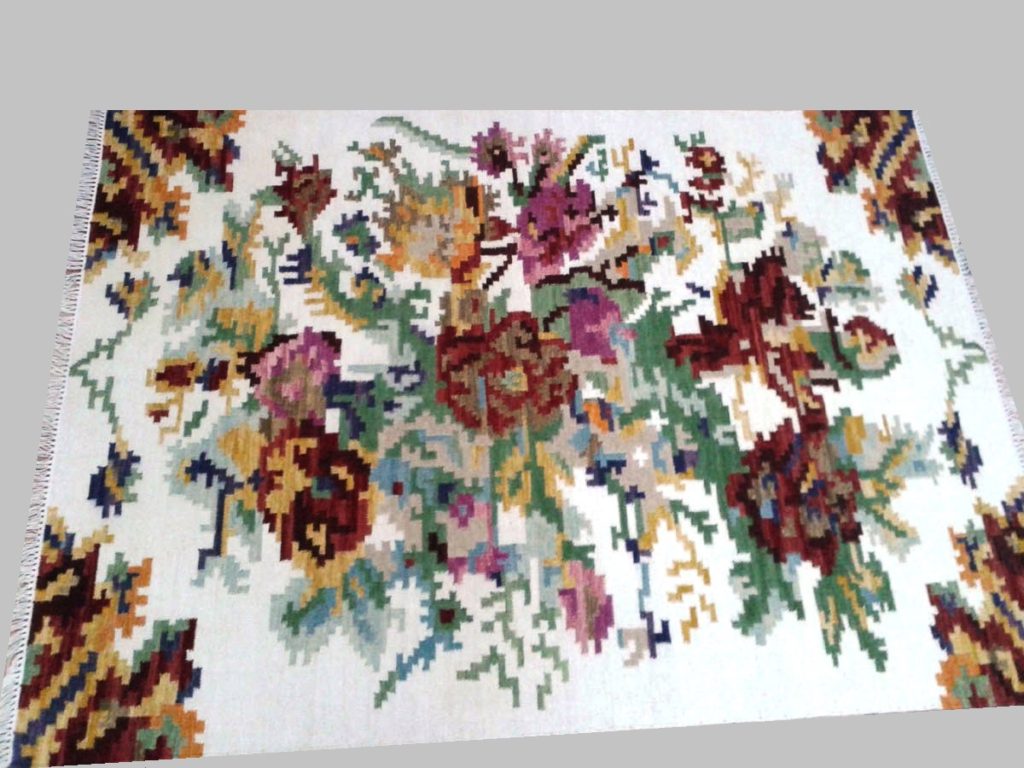 The Difference - Kilim Vs Rug
It isn't the end of the Kilim Dhurrie Rugs from us, if you have any questions or need a custom design rug, please contact FiRugs.