WHAT IS A MOROCCAN STYLE RUG - Moroccan Rugs
What is a Moroccan style rug?
A Moroccan style rug is basically the traditional Moroccan rugs that are soft, plush, have high piles and are often made from wool. Moroccan hand-knotted wool rugs mostly have geometric pattern designs with calming colors.
Brief History Of Traditional Moroccan Area Rug
If there is any rug that can match up to the highest degree of luxury, it is going to be the Moroccan wool area rugs. The Moroccan style rugs originated from Morocco and were so much valued that they were used in palaces and sacred places.
The Berber women wove them back in 622 AD. Their daughters and granddaughters learned the art by only watching it being woven since their childhood. These tribal Moroccan area rugs were specially made for domestic usages like flooring and bedding.
Later, these Beni rugs were professionally made by Eastern tribes- Beni Ourain, and Moroccan Berber made them were given as an award or gift to the high-class families.
The wool was then obtained from the Atlas Mountain sheep and was handspun to form yarn. Camel's hair as an alternative was the next best choice for the sheep wool. The wool was sometimes dyed and sometimes left to their original undyed plain color.
A  neutral Moroccan rug is so beautiful that in the olden days, the makers were so superstitious that the rug's beauty would attract evil spirits. So to prevent rugs from any evil spirits or evil sighting, they slightly burned the rug's edges. The people those days believed that by burning the rug's edge would let bad spirits stay away from the rug.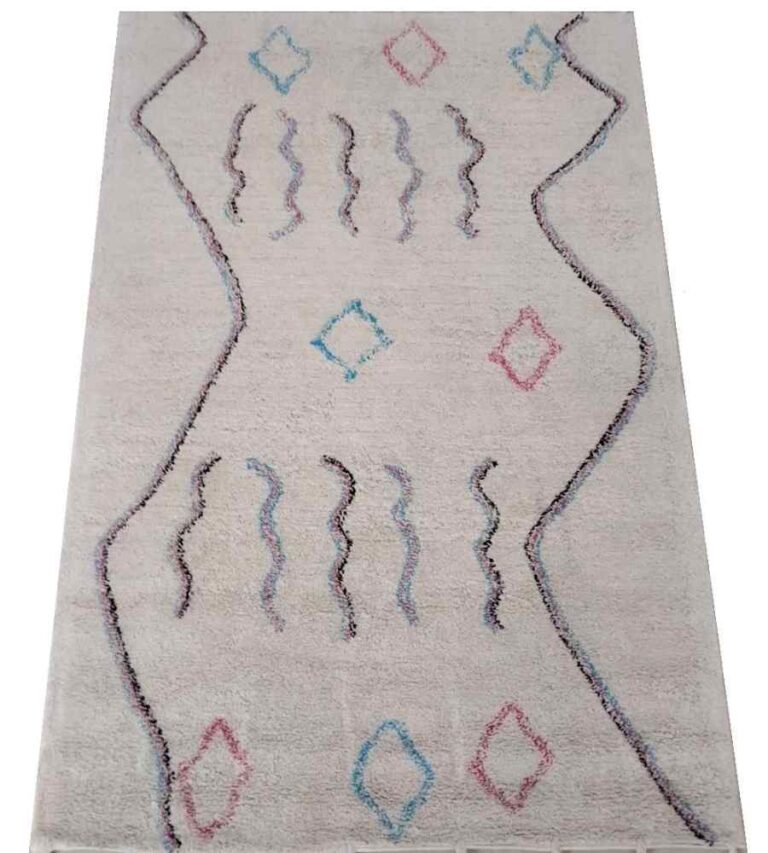 Vintage Moroccan rugs are said to be one of the most captivating and common people art rugs around the globe. The excellence of designs gives the impression of a splendid ivory shag structure. Some of the most famous types of Moroccan style rugs are
Boucherouite

Beni Ourian

Boujad

Beni

Mguild

Tribal kilims.
Moroccan Area Rugs At Faisal International
A vintage Moroccan rug is 100% natural wool made and sometimes it is completely free of color dyes.
Previously it was made in Morocco only but now lots of rug manufacturers are producing them in India as well. In India, it is now made in a variety of unimaginable patterns and color combinations. They are beautifully textured, luxurious, and last for a lifetime.
The grade of wool Faisal International uses for making the beautiful traditional Moroccan Berber is the pure NZ wool. The special washing techniques and treatments make the rug softer, smoother, shinier, and more demanding.
Moroccan Pattern Area Rug is known for its simple geometric designs and soft cloth and at once making space very amazing and unmatched. Some of the famous patterns the Moroccan Berber rugs have are Zigzags, Stars, Checks, Crosses, and Triangles. Other popular Moroccan designs are Cupids, Dragons, Camels, Fish, Judaic Mofits, Shah Abbas Design, Greek key, Geometric human and animal figures, etc.
A Moroccan style rug comes in beautified designs and they are bold and bright in vibrant colors. They can be used at any place in the house because of its unique appearance.
The Colors In The Soft Moroccan Shag Rugs
Authentic Moroccan rugs describe the character of six colors like red, yellow, white, black, blue, and green. They have a typical resemblance to the culture of Morocco. They are mostly influenced by the Islamic religion.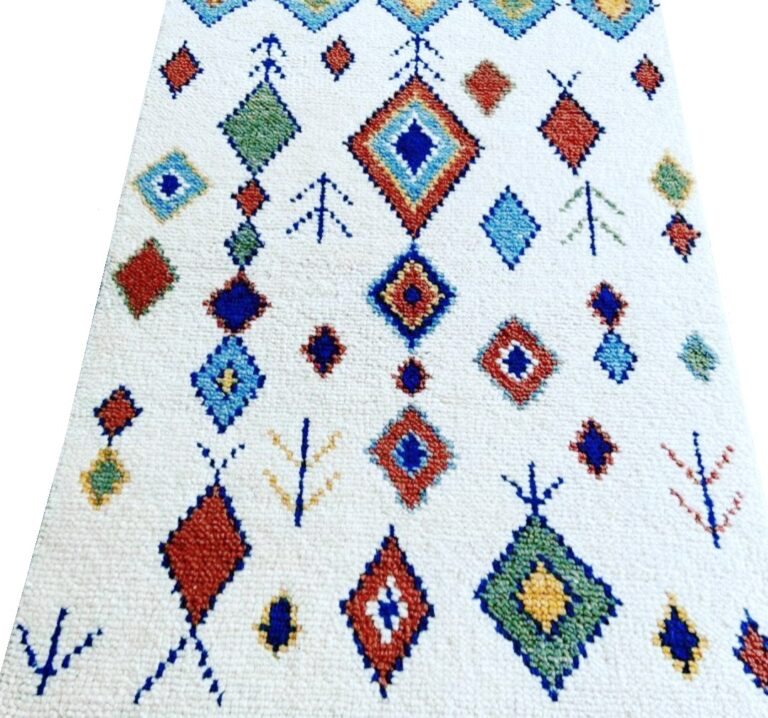 What Is A Moroccan Style Rug Made Of?
The Vintage Berber rugs are handwoven from high-quality sheep wool. Their patterns, weaving techniques, and thickness are quite different from those Persian or Turkish rugs. They are full of colors, very light, and convenient in maintenance.
These types of rugs are very appropriate for anybody. Ivory Moroccan rug, and those with cream and white with gray geometrical lines rugs are in trend and seems would fashion floors for long.
Cleaning & Washing Moroccan Style Wool Rugs
If Moroccan rugs are free from dust or stain then it will be more shining and powerful in effect.
To wash them always use cold water and mild detergent soap. This will surely help you in cleaning the rug from the impurities. After the wash, make sure to place the rug under sunlight to dry.
It is always better to use baking soda to get any smell out of the Moroccan wool rug. Baking soda is a natural odor neutralizer and a very good source for getting rid of bad smell.
How Much Do Moroccan Wool Rug Cost?
Rugs are a bit costly. Rugs are more expensive if they are handmade or hand knotted like the Moroccan style rugs.
Let us see some of the average prices these rugs cost in the world market.
A small rug may only cost from US$ 83 to 107.
The average price of a

Moroccan shag rug

can range from US$ 370 to 612.

The larger sized – Berber or older vintage rugs may range in the price US$ 972 to 2430 or much higher.

Antique Moroccan rugs

can cost as much as the cost of antique

Persian rugs

.
Advantages Of A Moroccan Area Rug
Shag

Moroccan carpets

are a precious and extremely modern type of floor coverings.

It is very thick, grassy, and very soft. Feels comfortable and cozy under the foot.
It is easily portable as they are light to carry anywhere.
Easy to fold without breaking in between as they can fold as much as the blankets do.
Made from pure wool and other natural fibers.
They are so soft that some used it as blankets and bed covers as well.
Moroccan Berber rugs in small sizes are used as prayer mats.
Difference Between Moroccan And Shaggy Rugs
Moroccan style rug got its name from the fact that it was innovated in Morocco by the Moroccans for the purpose to keep themselves from cold. Hence, these traditional Moroccan Berber rugs are fluffy, have a high pile, and are 100% wool made.
Shaggy rugs are comparatively inexpensive and their features resemble close to the Moroccans. They are modern rugs mostly made from synthetic fibers but come in wool as well. A shag rug also has a long hairy pile woven on a horizontal loom.
If you have any questions or want to fall in a discussion about this article "what is a Moroccan style rug", please contact Faisal International by email.
HAPPY FLOORING