Modern Black And White Geometric Rug
Black And White Rug With Geometric Pattern
Geometric rugs offer simple geometric designs on a home rug. They come in a large variety of colors and styles to best suit the design style and personality of the homeowner who is purchasing the rug. People who are decorating their floor affordably often use a black and white geometric rug.
Why Geometric Rug Black And White!
When choosing a geometric rug, it is important to choose not only a rug that has a color that best suits your décor but choose a shape that makes you feel good as well. You may find that you enjoy circles much more than triangles.
A black and white geometric style will fit almost anyone's decorating style. A contemporary home may enjoy large geometric rug shapes with bold flashes of color, while more casual homes may enjoy subtle shades and simple patterns.
Rugs with a tribal appearance are often considered geometric rugs as well. These types of rugs would look great in the southwest or country-styled home.
Popular Black And White Geometric Rug
These rugs are made up of different types of shapes. There may only be one shape used in the area rug design, or there may be several different types of shapes. The shapes used in the designs of geometric rugs may be such simple shapes as squares, circles, triangles, or lines.
Some of the finest rugs have poplar geometric patterns that can accelerate the finest flooring decors' essence. The following are some of them:
It is easier than ever before to update your flooring with a black and white zig-zag rug. The pattern and color are such that this area rug will very conveniently fit any space of the house.
Features:
This chevron area rug piece is available in two sizes, 17″x48″ and17″x24″. It's perfect for the kitchen and entryways.


The rug has a latex backing which makes it a non-slip rug.


It is made in microfiber and is durable, and is resistant to wear and fade.



It will be convenient to wash this rug as it is machine washable using any light detergent.
Features:
Here is a striped cotton rug hand-woven with a classic black, gray and white stripe pattern, made from environmentally sound materials.


The rug is durable enough to withstand outdoor elements and. The mat is made to the highest standards; it is thicker and heavier than commonly available striped rugs.


The rug is exceptionally durable, comfortable and soft to feel. Vacuum-cleaning is all it needs, and when stained, either hand-wash or machine-wash as you like.


This indoor-outdoor rug is handy. Use it for the entryway as a welcome mat, your outdoor flooring, and anywhere indoor, including your bathroom, laundry room, kitchen, etc.
Features:
This popular herringbone pattern 2′ 6″ x 6′ here has a unique touch of fading. Unlike other solid patterns, the trails of white lines add to the overall look of the rugs.


The fiber used in making this [contemporary rug] is a mix of polypropylene and polyester. These two synthetic materials make the rug strong and long-lasting. Hence, you can use them outdoors.


It is a shag rug which means you feel the depth of the rug's soft and cozy piles. High pile also means, use this rug in low to medium traffic areas to extend its durability.



There can be a bit of shedding initially, but you will soon get rid of it with regular vacuuming.
Polka dotted rugs can instantly change the style of any space. It is perfect for lying in the living room, kitchen, kid's bedrooms, hallways and by patio door as well. The small size polka dot mats are ideal for placing in the bathroom and outside entryways.
Features:
The rug is made from good quality synthetic fiber, polypropylene fiber which is plush and soft. It can stand high traffic and will last for a long time when taken good care of.


The rug will not require a separate pad to fight against slipping as there is a good amount of grip by its in-built rubber backing for non-slip.


Cleaning the rug is not going to be challenging. Go spot cleaning and regular vacuum regularly. You can use a carpet shampoo for washing, but ensure to dry the washed rug quickly.
A checkerboard pattern will instantly remind you of the chessboard, the game you played at least once in your childhood. Square blocks of white and black is a pattern that has come a long way from traditional decor concepts of the modern time. The magic prevails even in floor decoration.
Features:
This 4'x6' black and white checkered rug is cotton made. Cotton fiber, as you know, is durable and environment friendly.


The edges of the rug have strong binding and a beautiful finish with no sign of open thread or cotton.



The advantage with this rug is that other than placing it in the kitchen, living room, or entryways, it is perfect for [rug layering]. Enhance your front door by decorating your entryway by lying a doormat on this large black and white checkered rug.
Trellis are unique designs that cover its surface area with semi-circles meeting to form a somewhat sharp triangle ends. It's an interesting pattern to home decor to win hearts easily.
Features:
With geometric black and white rug with a trellis pattern, this rug is polyester made and gives a high touch of velvet feel to the touch.


The rug comes in 2'x3′ size, and also others such as 1.3'x2′, 2.3'x6′, 4'x6′, 4.6'x6.6′, 5.2'x7.5′, and 6.6'x9.8′.


There is built-in non-slip backing with dotted carbon attached to prevent the rug from moving.



The rug is a synthetic fiber, it is durable and suitable for indoor and outdoor flooring. Also, cleaning this rug is easy; vacuum to sweep out the dust and go for spot cleaning when there is any sign of stain.
A Moroccan geometric rug is a perfect finish to areas that require a covering that is simple and not too loud. Nearly any interior can seamlessly integrate with this Moroccan area rug because it is composed of neutral colors.
Features:
This Moroccan

area rug with tassels

 is from Nuloom and is polypropylene made. Its soft shag texture is incredibly comfortable and suitable for living room, bedroom, and other moderately trafficked areas.



The carpet is easy to maintain, so we suggest vacuuming regularly to subdue possible shedding and spot cleaning any stains with a carpet cleaner.
More Geometric Black And White Pattern Rugs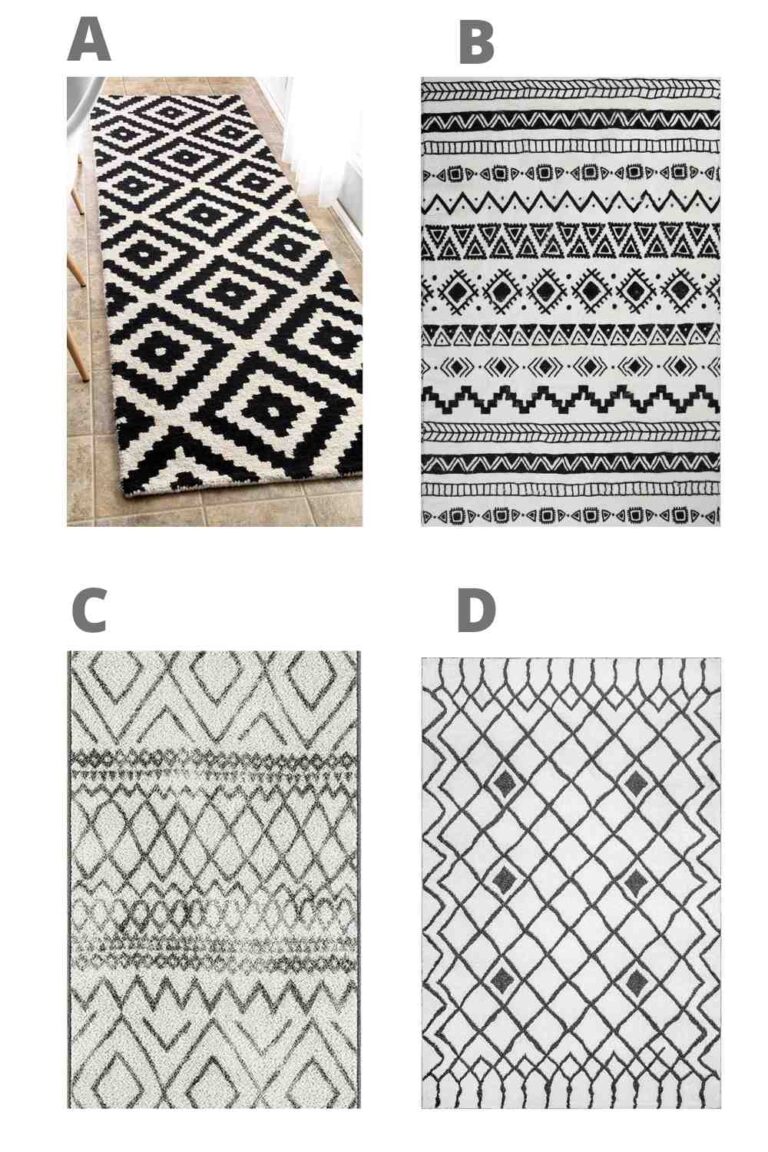 Hope you enjoyed knowing the significance of "Black And White Geometric Rug". We hope you share your flooring experience with your geometric pattern rug in your house in the comments below.
If you do not find your favorite pattern available online, please contact us, and we shall get it made for you.