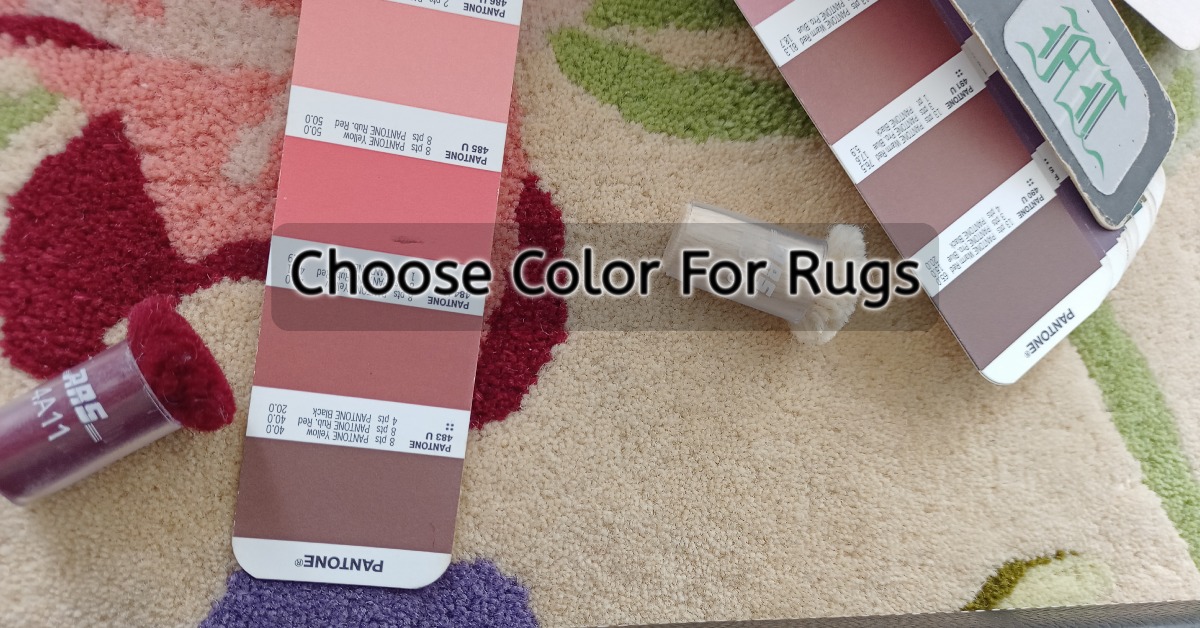 How To Choose A Rug Color
How to choose a rug color? what color rug should I get, and how to choose a rug color?
Well, choosing the appropriate color rug for your home can be challenging. When selecting colors, consider what you currently have in your space, how you want the room to feel, and how much time you are prepared to devote to caring for your rug.
Besides, how to choose rug colors, this article will cover several questions and give ideas to choosing rugs and their colors. Some of them are as:
Trending Rug Colors | Popular Carpet Colors 2023
PANTONE® Color Of The Year
2023
PANTONE 18-1750
Viva Magenta
2022
PANTONE 17-3938
Very Peri
2021
PANTONE 13-0647 Illuminating
2021
PANTONE 17-5104 Ultimate Gray
2020
PANTONE 19-4052 Classic Blue
How to Pick Rug Color For Your Home
Step 1 – There Is No One Rule
You could get ideas from an existing rug with similar colors and textures, such as light blue and cream wallpaper. If you still need to decide whether to commit to a color, select an item with various hues and choose the one that makes you happy.
If you don't want to commit, disregard the question.
Step 2 – Choose The Right Types of Rug
Before buying, you should learn about the wide variety of rugs. They may enhance any space. Before purchasing any, you should know how different styles and materials look.
Wool, jute, sisal, cotton, indoor/outdoor rugs, and other materials are among the most popular types of rugs. Knowing what kind of rug you want before making a purchase is critical.
Step 3 – Your Rug Color Match-up
Match your rug color to your décor style: for modern decor, lighter hues like beige, ivory, or soft pink are appropriate.
Choose a rug with earthy tones such as browns, dark greens, and oranges to add warmth and brightness to your house.
Choose natural and neutral colors such as browns or grays for a more rustic look.
Choose a rug that matches the other colors in the room if you want to create an eclectic effect with various types and textures.
What is the look of my home?
Are your rooms mostly lit? – Opt for light-colored rugs, such as beige or white.
Do they have many windows? Select carpets in more natural colors, such as orange or yellow.
Do you have a color scheme in mind when shopping? Color-blocked rugs, solid colors, or stripes are all options.
Is there a lot of natural light flowing in through the windows?
You might try utilizing neutral hues like beige or brown.
Do they have many windows? Consider painting the walls in light colors and the ceiling black.
How much natural light is there? Consider draping a light sheer fabric or putting a sheer curtain over the window frame.
Step 4 – Sample Out Colors In Person
The easiest method to choose a rug color is to try it on. You can do this by visiting a store or bringing in a little sample of the color you like.
Think about the type of carpeting you choose. Colorful carpets reflect light, making them ideal for warm-toned spaces with plenty of natural light.
The textured rugs in this section look good in rooms that need to look more put together.
Wool, jute, sisal, cotton, indoor/outdoor rugs, and other materials are among the most popular types of rugs. Knowing what type of rug you want before making a purchase is critical.
What Color Scheme For Rug Color Match
In the rug industry, different rug brands prefer using different color swatches for matching colors for rugs. Some use the wool pom box, and some use paper shades.
1. The Pantone color swatch cards are the best option for the rug's color match. Pantone is an ideal source for matching perfect colors and has rugs made in an approximate color match.
2. The ARS color pom-poms are another widely preferred option by rug importers and makers to look up and match colors for rug yarn.
How To Choose Rug Color For Dining Room
It would be clever to choose dark rugs that have designs with two or more colors in them. Dark area rugs make cleaning the rug under the table easy, as dark colors and structured design rugs hide dirt quite well.
Points to consider while choosing a dining room area rug color:
Amount of light in the dining room (bright or dim lighting installed)
Color of the table, whether wood polished or painted.
Color of the chairs, cushions, and cover sheet.
Color of the floor tiles
How To Choose A Rug Color For Living Room
A proper rug color for your living room can improve its appearance. You may bring your living room to life by considering current décor, space size, lighting, and patterns. Know how to choose an area rug for living room.
Some color tips for choosing beautiful rugs for living room:
Examine Existing Décor
Your furniture, curtains, and other furnishings should match the rug. To draw attention to a neutral area, choose a bright rug. If your space contains bright colors, consider a rug that matches or enhances them.
Consider Room Size
A light colored carpet and rug can make a tiny living room appear larger, while a darker one might make it cozier. Bold colors and patterns may make a bigger room stand out.
Consider Lighting
Artificial light dulls colors, while natural light brightens them. Choose a rug color based on your living room lighting. A vibrant rug works well in a well-lit environment. However, a lighter rug can enliven a dark room.
Try Patterns
If you're confident, try patterns for a rug color. Geometric, floral, and abstract designs offer depth and intrigue. To prevent clashing with other patterns, use a more straightforward rug.
How To Choose A Rug Color For Bedroom
Choosing a rug color to match your bedroom's decor and fulfill your expectations is simple. Bedroom rug color depends on décor, room size, mood, function, and pattern. Here are some tips:
Consider the Existing Décor – Choose carpet colors that match your bedding, curtains, and furnishings. A bright area rug or carpet may give color to a neutral bedroom. If your space includes bright colors, consider a more muted carpeting to balance it.
Consider Room Size – A light colored area rug makes a tiny bedroom look more prominent, while a darker rug makes it cozier. Choose solid colors and rug patterns for a more dramatic impression if your bedroom is vast.
Consider the Atmosphere – Light blue, green, and beige are calming colors. Red and orange are energetic hues.
Think About the Function – Consider choosing a neutral colored area rug under your bed. If you're placing the rug in front of a chair or seating area, match the color.
Play with Patterns – To add depth and interest, use bold rugs for solid-colored bedding. To prevent clashing with your bedding, consider a rug with a mild design.
How To Choose Bathroom Rug Color
Bathroom rugs are to prevent the floor from getting wet. They also provide a nice place to wipe your feet before entering the bathroom. But how do you choose the right color for your bathroom rug?
First, the rug should match the colors of your bathroom. For example, if you have a pink and purple-themed bathroom, you would want to get a pink and purple rug. You will want an elegant white rug if you have an elegant white theme.
You can also use complementary colors. If you have a yellow and blue theme, go with green or red rugs and furniture. Your house can differ in color depending on the mood you want to set. A happy light rug in yellow, a cold blue and green, and an elegant black are also perfect.
Why Avoid Rugs Under Fluorescent Light
Never trust the color you see in a carpet design center or retailer's facility when selecting a color for your new carpet. The fluorescent lighting in most commercial carpet or rug stores can trick your eyes.
Certain colors, particularly blue and gray, can be altered by fluorescent illumination. If at all feasible, borrow a sample board with at least two or three colors that appeal to you and take it home. You can now see them in your lighting and settings, giving you a better idea of how your final selection will fit into the overall style of your home.
People frequently bring in a throw pillow, a fabric swatch, or another piece from their décor that they want to match or complement, and this is a terrific starting point. Take a sample home, however, to see how it will look in your home.
What Color Rug With Wood Floors
Consider your flooring color while choosing a rug. Dark wood floors look good with neutral or bright rugs. Light wood floors benefit from warm or cool rug colors. With little research, you can choose a rug color that complements your home and creates a warm, inviting atmosphere.
Rug Color For Dark Wood Floor
Choose a rug color that accentuates the wood's richness without overpowering it. Beige, cream, or gray rugs are great. These colors will enliven the room without detracting from the wood's attractiveness.
Blue or green rugs are another option. These colors will pop against the dark wood. Select a rug with a pattern to coordinate colors.
Rug Color For Light Wood Floor
Consider a rug color that adds depth and warmth. Red, orange, and yellow carpets are excellent. These colors will warm up the room.
Blue or green rugs are another option. These colors will calm the space and offset the wood's warmth. Choose a patterned rug to coordinate colors.
Color Of Rugs Are Important
Your rug's color and style can set the mood in a room since a rug serves as an anchor. Dark, rich colors can help define a more intimate space, whereas lighter colors can make a smaller room appear bigger. Colors with spicy undertones, such as yellow, orange, or red, add warmth to a room; cool colors, such as blue, create calm, especially in a room with a lot of sunlight.
Light Color Rugs
Makes the space look more open and bright.
Small spaces can appear larger with light colored rugs. For a more spacious feel, make a room feel light and airy with pastel shades, white, or a combination of light and bright colors.
Dark Color Rugs
Helps hide stains on the rug where placed under the dining table or even living room.
It is wise to choose a dark color rug for hardwood floors to keep stains hidden.
Avoid placing dark color area rugs in dark rooms.
Wood stains are better hidden with darker colors. Consider investing in a dark-colored rug if its wood floors are opaque.
Bright Color Area Rugs
If you want the area rug to be the focal point of the room, choose bright colored rugs to complement muted walls and furniture. The shades of orange and red color on rugs often work well with warm painted walls.
Colors that are bright and vibrant create a sense of energy. Colors like the reds, oranges, lime green boost energy to the room. Good rug color for grey couch.
Neutral Color Rugs
Neutral colors like gray, taupe, beige, black, ivory, and shades of white seem to be with no color; however, their undertones can often be seen in many applications.
Modern rugs with simple design patterns are popular in this category.
Multi Color Rug
Multi colored area rugs don't always need to pick colors from their surrounding accessories. A multicolor area rug can set the mood of the space and enhance pale tile flooring.
Tips To Distribution Of Colors In Rugs
A rug is beautiful when you add a color or a combination of colors. It gets better with the most righteous shades; the better the match, the more wonderful they look.
Play around with colors in plenty of artistic ways, distributing separate colors based on various styles of rug making, such as:
Wool and Silk rug
High and low pile
Cut and loop pile
Stria texture rug
Dual tie dye rug
Multi-tie dye rug
Also Know
Overdyed area rugs
Vegetable dyed wool rugs
What Color Rug Goes With a Grey Couch?
So what rug for a grey couch? Gray complements numerous colors. Gay color enables you to create peaceful, relaxing, and bold looks. Here are some color rugs for gray couches:
Neutral Colors: Beige, white, or cream rugs are simple and traditional. These hues harmonize with your gray couch.
Bold Colors: A red, blue, or green rug or carpet makes a statement. A bold-colored rug will brighten your living area and contrast with the gray couch.
Earthy Tones: Choose a brown, tan, or beige rug. These hues will liven up your living space and complement the chilly gray couch.
Patterns: Patterned rugs give color and visual intrigue. Consider a geometric or floral rug that matches your couch.
Symbolism Of Rug Colors
Each rug's color may have a slightly different meaning, although the general idea will be the same. To make the best symbolic decor, you will also need to know how to connect the meanings of the colors.
Colorful Rugs – Means Fun and joy (from our side – FiRugs)
White Rugs – White area rugs are the most "open" of all the colors. It represents peace and purity and is the most easily stained color in grief. In the Orient, white is the color of mourning.
Blue Rugs – Blue is for tranquil peace. It is the color of heaven, eternity, and the night sky. It is a calm color often linked to deep thought, meditation, high ideals, unity, and spiritual, devoted joy. In China, dark blue means relaxed but powerful strength or authority. It also means solitude. Any shade of blue represents water because it reflects the sky. Other meanings are sensitivity, loyalty, and contentment.
Red Rugs – Red is the most vibrant of all the colors, which means great joy, happiness, and success. It is a powerful, energetic color and represents leadership and government.
Red represents growth, creativity, battles, vitality, passion, and desire. Red is always actively outgoing and symbolizes the fullness of life.
Yellow Rugs – The yellow sun represents plentiful riches, glory, and active power. It also means a release from burdens and the attainment of hoped-for happiness.
In China, yellow is used for rugs with a royal connection. The Chinese emperors liked to wear gold and yellow, and they thought of these colors as their own.
Green Rugs – The green color means constancy, like the spring, which always returns. Green is also a proud, self-assertive color. It means to be noticed, to do better than others, and to want to help others live better lives.
Brown Rugs – Brown is the color of acceptance, the fruitful earth (harvest), and fertility; it also means roots. Brown is often used in nomadic rugs to show that the people need their earth or home, where they can rest comfortably.
The little houses they sometimes picture in their rugs express this usually unattainable dream; they always search for new grass to feed their flocks.
Orange Rugs – Orange means devotion, tenderness, sympathy, and high regard for others. Orange is often used as a background color for the marriage-tree design in rugs, as it means human love. It's the perfect rug color for brown couches.
Purple Rugs – A purple rug is an essential color and is often used to represent the ruler, sometimes of the country (excluding China), and sometimes of the household. It expresses the determination to make dreams come true, so it is the color of magic spells and self-identity.
Mauve Rugs – Mauve signifies wanting to be adored and the focus of attention. It's a watered-down purple and shows self-preservation.
Gray Rugs – Gray is the color of secrets. It means seclusion and non-involvement, withdrawn separation, and neutrality.
Black Rugs – A black rug means both destruction and the unknown. It means silent nothingness and a peaceful end.
Conclusion
For inspiration click(pinterest) here for pictures of area rugs
Bonus Tips:
Look at the design and color scheme that has already started to ensure the rug complements the existing decorations.
As a general rule of thumb, the darker color impacts the room's warm and cozy feeling, while the bold and bright colors make the room spacious and playful.
Tie the look of the room together. It is best to select a rug that coordinates with the paint color, furniture, and accessories already placed in the room.

Neutral walls and furnishings allow a bold rug to take center stage. If the primary furniture, like the sofa, is a solid color, it is best to select a patterned rug. However, if the primary furniture has multiple colors, choose a solid rug to ground all the colors together since area rugs serve as an anchor to any room as the color and style usually establish the mood.
FAQs
How to choose an area rug color?
First, consider the significant element of color in the space, e.g., wall color, wallpaper's background color, and the color of the floor/tiles.
In the second phase of the matching, match with other more minor elements such as the drapes, furniture cover, wall painting, etc.
Should rug match wall color?
The color of the wall is one of the main factors to consider, as the walls will somewhere surround the rug. However, the rug needs to have a different color than the wall color, but you can scatter it into some parts of the rug design. It is more about personal choice; the best is always what you like it to be.
What color rug hides dirt best?
Some of the colors for rugs to choose from that hide dirt well are:
Shades of brown
Shades of gray
Charcoal
Terracotta
Beige
Maroon
Dark blue, and dark green
Also, try to avoid solid black because dust particles are a lot visible on them.
What color rug with red couch?
A red rug can make all the difference in anchoring your red couch and creating your desired mood. Depending on the dark or light shade of the red couch, plenty of color-shade rugs go with it very well.
Some to consider are neutral white, burning red, beige, cool gray, night black, orange, leafy green, slate blue, and soft yellow. Pick a black and white Moroccan rug or even a Persian oriental rug.
What color rug should I get with a grey couch?
Gray is a color that needs less time to decide what color rug will match it. A gray sofa can match up with just any floor rug. It is better to choose bright colored rugs only if the couch is dark gray. Soft, tone carpets and rugs are perfect to match a gray sofa.
What color rug should I get with a brown couch?
In rugs for brown couches, other than the color, what shade(light or dark) also matters. Some of the colors for rugs that go with brown couches are:
1. Cream/white rug
2. Navy blue rug
4. Beige rug
6. Green rug
7. Grey rug
8. Dark red rug/burgundy
9. Dark yellow rug