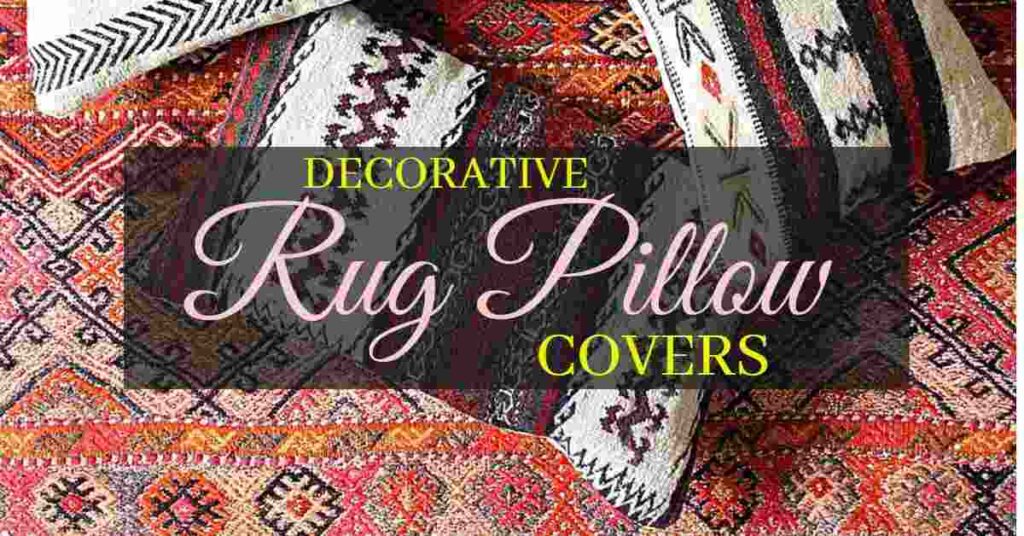 Woven Wool Rug Pillow Covers To Choose
What are area rug pillow covers?
Firstly, Know what is a decorative rug pillow. A woven wool rug pillow is one made from a knotted rug. The rug would be a cut piece or deliberately designed, weaved, and sewn into a pillow or a cushion.
Benefits of Area Rug Cushion
A decorative rug pillow is a floor pillow that is placed on the ground. Rug cushions are a comfortable place to sit while reading, watching TV, or eating.

Many people also use area rug pillows instead of traditional furniture like couches and chairs. This allows people to save money by not purchasing additional furniture for their homes. The decorative rug pillow can be placed in any room of the house for extra seating and comfort when needed.

Many people are using and sleeping on rug pillows for various health reasons.

These rug throw pillows are slightly more expensive than the other regular printed or embroidered pillows and are a great addition to any camping or backpacking trip.
How To Choose The Right Rug Pillow Design
Designer rug pillow covers from FiRugs can be made in any shape, size, or pattern, Contact us.
Different Types Of Hand Woven Rug Pillow Covers
Moroccan kilim pillows / Dhurrie rug pillows
Shag rug pillow
Persian rug pillows
Oriental rug pillow
Vintage rug pillows
Hooked rug pillows
Tufted pillow
Chindi pillows / Rag rug pillows
Turkish rug pillows
Jute jacquard pillows
Chocho dhurrie pillows
Fillers In Woven Wool Rug Pillows

The fillers used in pillow making affect the look and feel of the pillow. It can differ in weight, softness, puffiness, and price.
The filler in a pillow can either be natural or artificial; both are soft and cozy.
Some of the fillers that we use in the rug pillow covers are:
Organic cotton
Synthetic polyester
Wool
Thermocol balls
Foam
Down
The down pile is a very popular type of rug woven pillow. It is made from the feathers found on a duck's back. This type of rug pillow can also be made with other feathers, like those found on swans and hummingbirds.
Different Types Of Pillow Shapes
Square
Round
Lumbar
Bolster
SQUARE
Square rug cushions are the most standard shape. Square pillows generally come in three common dimensions 16 inches, 18 inches, and 20 inches. Sticking to a square shape benefits if one needs to replace the cover later.
ROUND
Round pillows are rare compared to squares but can be an attractive choice to balance the straight lines of square and rectangular cushions.
LUMBAR
Rugs' lumbar pillows have an oval, rectangular shape. They are designed not only to support the born curvature of your spine but are now used more often for decorative purposes. The round lumbar pillows are decorative as well and are called round bolster pillows.
BOLSTER
Decorative bolster pillows are cylinder-shaped ones most commonly used on beds and couches. Bolster rug pillows are also called couch pillows and are made in special sizes. The length of these pillows is almost double the size of their width.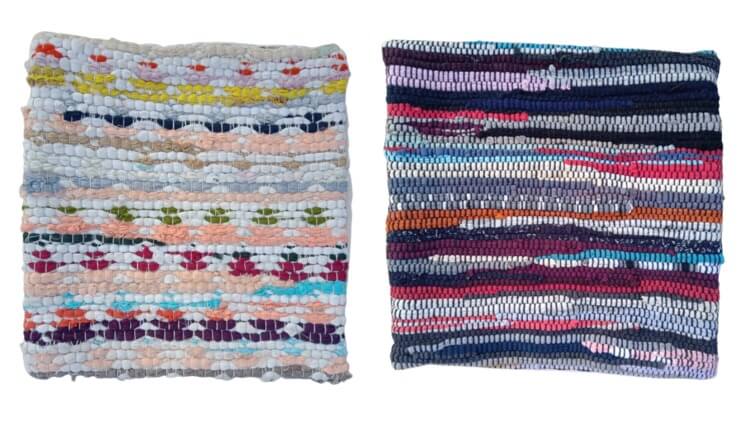 What To Look For In A Good Rug Pillow
The quality of the rug made for the pillow
Type of filling used in the cushion
Good quality zipper in steel, copper, or plastic
Separate filler bag within the pillow cover
Undetectable sew thread lines
Cozy and lightweight
How To Wash A Rug Cushion
Go for spot cleaning as much as possible.
For a full wash, first, remove the filler cover from the pillow cover.
After washing, hang the pillow cover on a string dryer to let the water drain out and dry more quickly.
Care and Maintenance
The rug throw pillow cover is removable and has a separate coated cloth with the filler within. Therefore, washing the pillow cover as and when needed is easier.
These pillows are easily machine washable, but some sewn-on covers may require spot cleaning.
Durability
Handwoven rugs are such that they are more durable than most fabrics available on the market. Rugs are tough and strong, and the pillows made from them are not only soft and cozy but also long-lasting. The good thing about rug pillow throws is that they are cheap to replace, so you can switch them out whenever you want.
Matching Rug Pillow And Curtains
There are many ways to match a rug with curtains. One way is to use the same fabric for the rug and curtains. Another option is to use a contrasting fabric for the rug and curtains.
One way is to find a fabric with both colors or one you can easily dye to get both colors. Another way is to find two fabrics with similar patterns so they will still work together even if they have different colors.
The second option, contrasting fabrics, can be done in many ways. One way is by choosing two fabrics that are very different from each other but are still complementary colors (i.e., one blue and one yellow).
Another way would be to choose two fabrics with similar patterns, like stripes. A third way would be to choose one delicate fabric and one bold, patterned fabric that are the same color.
Rug Pillow Combinations
Rug and pillow combinations can be pretty confusing. There are many different combinations that you can try out to see which one will work best for you.
This is a list of some of the most popular rug and pillow combinations:
A round rug with round pillows: This is a very popular combination for the living room or bedroom. The round shapes of the rug and pillows give the room a cozy feeling.
Runner rug with square pillows: A runner rug would go well with square pillows because they have similar shapes and sizes, but runner rugs are not recommended for bedrooms because they don't provide enough cushioning to sleep on them comfortably.
Runner rug with rectangular pillows: A runner rug would go well with rectangular pillows because they are rectangular.
Conclusion
Why You Should Buy A Rug Pillow Cover
The types of rug pillow covers that people use in their homes vary depending on the size and shape of the rug. People with smaller, round rugs often use a pillow the same size as the rug. Larger, rectangular rugs are often laid on top of larger, rectangular pillows.
The type of rug pillows people use also depends on whether or not they have pets. If someone has a long-haired pet, they might want a washable pillow cover to protect the fabric from getting dirty. This can be especially important for those who have carpeted floors or don't often vacuum because pets shed constantly and will spread their hair throughout the house.
What is down in pillow?
A down pillow is one stuffed with the fluffy underside feathers of a duck or goose. Down is often used to fill pillows, comforters, and duvets because it is soft and fluffy and keeps you warm.
How long does a wool pillow last?
A high-quality wool pillow can last for years if it is taken care of properly. A high-pile wool cushion needs more care and maintenance, or it would be less durable.
Are wool pillows comfortable?
High-quality wool, like New Zealand wool, is soft to the touch. Pillows made of NZ wool are soft and plush and also used for decor purposes.