WHAT IS A TRANSITIONAL RUG?
Transitional rugs combine both contemporary and antique designs. These versatile carpets can cater to both formal and casual interior space with their luxurious designs. A transitional rug may have a traditional pattern but with bold colors and patterns.
Difference Between Transactional, Contemporary, And Traditional Rugs
Every rug gets to find its category based on its uniqueness or specialty. Most times it is the rugs weaving technique, sometimes of their fabric texture and sometimes of their design pattern.
Let's see what the primary difference some similar rugs most people get confused with is. These rugs slightly vary in their style, color, and design pattern.
Transitional style rugs are the mix of traditional and contemporary designs; include patterns and elements of each style. Inspired by conventional rugs, this style contains repetitive elements such as geometric or floral or leafy patterns. Its colors are more subdued and neutral.
The transition rug, therefore, takes the recognizable characteristics of both styles and combines them into something unique and beautiful. You will notice the care taken when weaving a carpet of this type. You will enjoy colorful designs that complement your walls and decoration.
Carpet experts may tell you that this style brings impressionistic designs to mind: muted colors and fluid images.
Although Impressionist-era painters worked with pastel hues, you are more likely to find these rugs in more earthy tones – rich browns and tans.
These rugs will remind you of modern rugs. They have constant flow features throughout the carpet with sharp lines, bold and vibrant colors. They have simple designs, including geometrical patterns with asymmetrical and abstract compositions.
Traditional rugs are different; they are the actual carpets. They are all made by the hand-knotting method of rug making. You will find that They have floral designs with a medallion design in the center. Persian rugs are an excellent example of them. Traditional rugs are a fresh take of time-honored Persian designs, characterized by ornamental filigree patterns with decorative borders.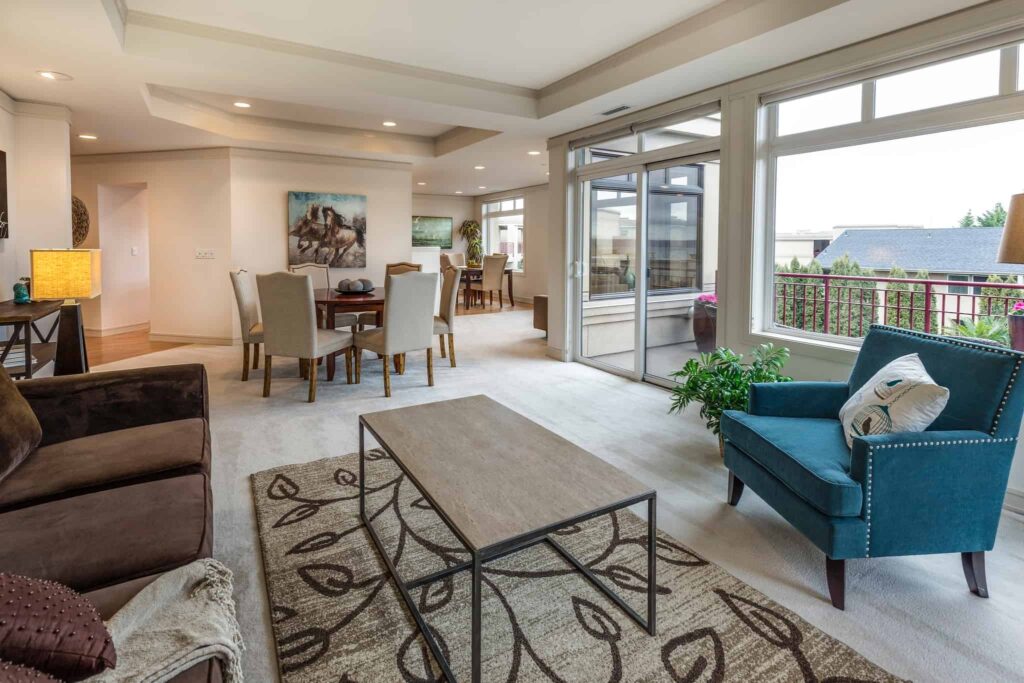 How To Select The Right Transitional Rugs
Transitional area rugs are about mixing bits from modern and traditional styles.
First, know what the dominant look of your space is, modern or classic. If the majority of it is traditional, then add elements of modern. If the majority of the style is contemporary or modern, then add some transitional details.
For instance, be it your dining room or bedroom, if there are modern furniture, go with a more traditional style area rug.


Is the style of your living room a more casual or calm type? If so, then it is better to go with a more sophisticated or chic rug design rug. Doing so can change the entire look of your space and add attraction and attention.


Another point to consider is the size of the transitional rug. Make sure the rug size you buy fits into the furniture properly. The best would be to let the chair legs on the area rug rather than just two front legs. For the dining table, better if the rug size is large. The perfect size is that when the chair is pulled back to sit, all legs still lay on the rug.
However, make sure to have at least 16 to 18 inches of enough space between the wall and your transitional area rug.
Where To Buy Transitional Style Area Rugs?
Reach to your nearby store, and they can assist you in choosing the right style for your space. You might want to get good deals with department stores, but unfortunately, the sellers there do not carry good knowledge about transitional area rugs.
Rugs are more than just walking on them. So only as you buy a cell phone from a genuine dealer, do the same for your area rugs. Buy your rug from someone who knows all about them, who knows its real value.
We hope this article 'what is a transitional rug' has answered all your theoretical questions. So get on now and decide whats your rug!
Pick this type of rug for your transitional home decor; as it can adapt itself to any space.
If you do not find the size or color of your taste, discuss it with us for a custom rug.