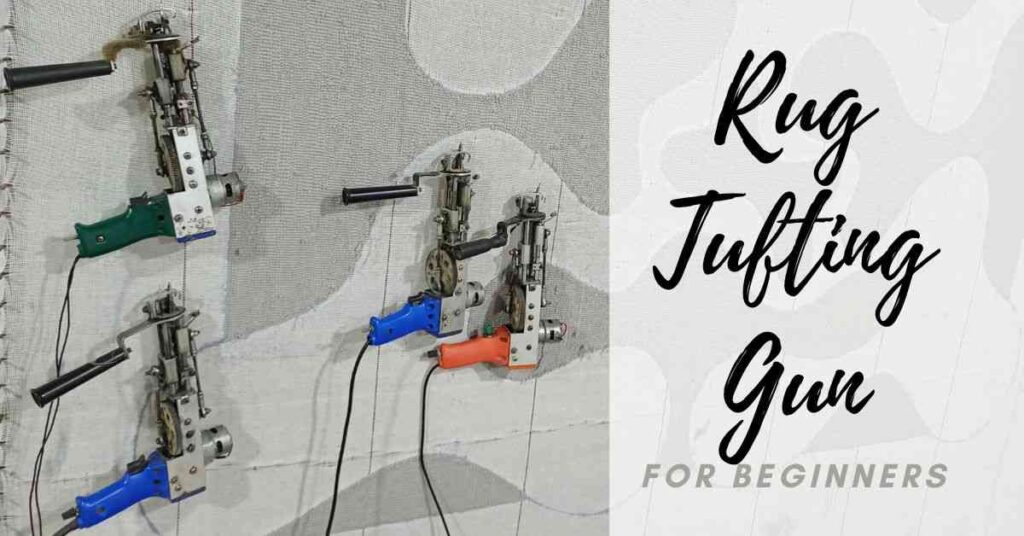 Best Rug Tufting Gun for Beginners And Professionals
What is the best rug tufting gun for beginners!
The best tufting gun for beginners is one that runs smoothly, is easy to use, and has useful features at an affordable price. Check out the best tufting gun to buy online below.
What Is A Tufting Carpet Gun?
An electric rug tufting gun is a tool that helps to weave tufted rugs by shooting strands of fabric, creating desired designs. Previously, hand-tufted area rugs were made with a tufting machine that didn't have electricity and had to be fired by hand instead of with a trigger press.
Look for the following specifications in a good tufting gun machine:
That creates a loop pile as well as a cut pile.
Properly hidden motor.
Good weight distribution to make it lighter.
Thick pole to prevent knotting.
Tufting machine that has an electromagnetic brake.
Avoid big gear to avoid wool getting stuck.
The needle is adjustable to adjust the height of the pile.
Top 5 Best Rug Tufting Gun For Beginners Online
Making Rugs With Tufting Gun Step By Step
A tufting rug gun is an excellent tool for making rugs quickly and easily, even if you have little experience. With a few simple steps, you can easily create beautiful tufted fabric with a carpet tufting gun.
Before using a tufting gun, start by checking the proper oiling of the machine.
Grab the desired color fabric and thread it to the needle. Secure the knot at the end of the thread.
Position the tufting rug gun over the canvas and pull the trigger.
Remember always to begin tufting the outline of the design.
Once complete, remove the woven rug, followed by latex, shearing, and binding.
What Rug Yarn For Tufting Gun?
Depending on how thick the fabric thread is, a tufting machine gun can make any design with any fabric. There is a different size tufting needle available for the tufting machine for each thread diameter.
Silk and wool yarn are among the most popular materials for tufting rugs. Jute, denim, and chindi are other fabrics used to create modern tufted rugs.
Types Of Professional Tufting Gun For Rugs
1. Cut pile tufting gun
These are the tufting machines that do specific work of creating rugs with the loop cut, hence called cut pile rug.
2. Loop pile tufting gun
Unlike the cut pile tufting machine, a loop pile tufted.
3. 2 in 1 tufting gun
The 2-in-1 tufting machine can create both pile types in a rug.
4. Semiautomatic carpet tufting guns
These are non-electric tufting rug guns, also manually handled machines for weaving rugs. They use no power, so there is an electric saving, but it takes more time and physical endurance to tuff rugs with them.
Cut Pile Vs Loop Pile Tufting Gun
A cut pile tufting gun machine is a more commonly used tufting machine, as this tool creates the soft-to-touch cut pile on the face of the rug.
A loop pile hand tufting gun, on the other hand, weaves only loops to the tufting canvas and does not have the mechanism to cut the loop pile.
Click the link to know more cut pile and loop pile rugs.
Advantages of Electric Rug Gun
Get Creative
Create rugs in the design that inspires you the most. Make custom tufted rugs in any shape, size, or color because you have the tool in your hands. So get creative with your DIY and inspire others with your artwork.
Easy to Use
The adjustable speed cut pile tufting gun will enable you to create carpets quickly and easily, regardless of your experience level. The speed and pile head height of the rug tufting gun can be changed to your preferences, making it simple to use and become proficient with.
Short Time To Create
It is quick to create any design you desire. The number of colors used and the complexity of the design affect how long it takes to tuft a rug. It typically takes 3–4 weeks to complete a custom area rug with a design similar to the one below, measuring 4 m x 5 m (20 square meters or 200 square feet) and being made entirely of wool.
Make Money
Although an initial investment is required to start tufting as a hobby, it is possible to turn tufting into a source of income. There are several ways to make money from your tufting work.
Disadvantages Electric Tufting Gun
Loud
The tufting gun will feel heavy in your hands and make a loud noise when you switch it on for the first time. However, when you become accustomed to it, it won't seem as loud or hard as it initially did.
Occasionally Overheats
It's crucial to keep the frictional resistance low for your machine to operate smoothly. The equipment can get hot, even overheat, and likely stop moving simply because of the slightest amount of tension in the machine.
Oil Spill
A tufting gun will always need good lubrication before use (see photo). Tufting gun oil/lubrication, such as oil or grease, sometimes tends to stain the yarn when tufting the rug, which would then need cleaning with thinner.
Where To Oil Tufting Gun?
When oiling a tufting gun, it is important to apply oil to the gun's moving parts. These typically include:
Needles: The needles are the gun part that creates the fabric's tufts. They move up and down rapidly, so it is important to keep them well-oiled to ensure smooth movement and prevent wear and tear.

Gears: The gears in the gun help drive the needle movement and should be oiled to ensure that they move smoothly and not become seized.

Trigger mechanism: The trigger mechanism controls the movement of the needles. If it is not well-oiled, it may not function properly and cause the gun to jam.

Levers: Some tufting guns may have levers or other moving parts that control the gun's functions. These should be oiled to ensure that they move smoothly.
For help, check the manual for specific instructions on how and where to oil it since different models may have different requirements and parts that need to be lubricated.
FAQs
What is a tufting gun?
A rug tufting gun is a mechanical device that punches fiber strands into a fabric backing to create the desired design. The tool has a handle, a trigger and a needle.
How to use a tufting gun to make a rug?
Cut yarn or fabric into small pieces for the tufting gun.
Put yarn or fabric in the tufting gun.
Press the tufting gun trigger on the rug to add texture.
Outline the design first.
Repeat until the form and texture are right.
Which tufting gun should I buy?
A better tufting gun machine is easy to handle, lightweight and doesn't spit out oil on the yarns. Moreover, the device must have a pile height-adjusting option to create different pile levels for the rug.
How much is a tufting gun?
A good tufting gun is easily available online, costing around USD 150-200 per piece. Different models with extra features can cost more than regular tufting rug guns.
How does a tufting gun work?
It works by putting a needle through the carpet, backing and wrapping yarn around it before pulling it out. The backing holds the yarn. This technique is repeated until the desired pattern and texture are achieved. It's a cost-effective technique to make attractive, lasting rugs.