WHAT ARE HANDMADE WOOL BRAIDED RUGS
"Wool Braided Rugs"
Braided area rugs are made by interweaving strips of fabrics jointly. The materials commonly they have are cotton and wool. They come in different shapes and sizes, and their thickness may vary. A braided area rug is reversible. A braided rug is also known as scrim cloth.
A wool braided rug can add warmth and charm to informal rooms. Wool braided area rugs look best when their size, shape, and colors have proper planning to look well with other room furnishings. Braided wool rugs are inexpensive and often straightforward to make.
Well-made wool braided rugs are firm enough to lie flat on the floor, and the materials will withstand wear.
Short History Of Wool Braided Rug
Braided rugs first began by the American civilization in their colonial period. Those settled at that time used old clothes, a fragment of the surplus of materials, or you can also say scraps to make it for floor covering.
It kept their homes warm and protected them from the outsiders and inherent.
The strength of these depends on the quality and type of materials used. The durability also depends on the place of usage and the foot traffic it receives. Ideally, there are many benefits of woolen rugs, and they are very durable.
With braided wool area rug, the story is a bit different. Unlike wool pile rugs, braided carpets are more open to the environment, making them more prone to getting dirty decreasing life altogether. The presence of a braided rug is not very long as the other wool rugs do.
Cost Of Wool Braided Rugs
Wool is a bit costly material for making carpets compared to cotton or other synthetic fibers. However, there are different grades of yarn in the market that can ease up the cost. Wool is another expensive choice for a braided rug as it is the most durable material.
On the other hand, cotton braided area rugs way cheaper than the wool. The price of a wool braided area rug or any other highly depends on the size of the rug. Larger rug means more fiber used in making it, thus turning expensive.
Pros Of Modern Braided Rugs
A braided rug is UV manageable, stamp, and cavity resistant.

Braided entryway rugs are the trend right now. They are suitable for living rooms and bedrooms as well. 

Both sides are taken in use as both sides look the same. So if one side gets soiled or dirty, turn the rug, and you are ready to go with a fresh carpet.

These rugs are widely used as a

wall hanging

as well.
How To Make Wool Braided Rugs DIY
Here we will discuss how to make wool braided carpets, but you can try the same using other materials. They follow the same method of making. Go with what fiber you wish to see in your braided rug.
Various kinds of fibers are taken in use to make contemporary braided rugs. Some of those fabrics are jute, cotton, wool, and silk. The braided rugs developed with different materials may have a long narrow piece or cylindrical stripes. Usually different or same fibers in the same proposition using in for an even look.
It gives beautiful looks to the room of any kind, and even you can use it as a wall hanging. The most popular and favorite choice of material used for making braided area rugs is wool and cotton, as they are available in plenty.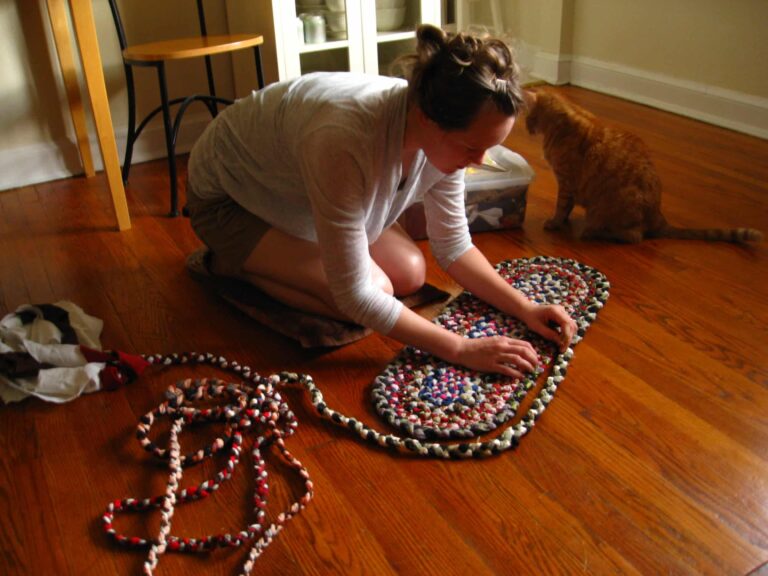 For choosing the colors for the rug, select the rug's colors from the colors in the room itself. For example, from wall paint color, draperies, floors, and furniture. The carpet should repeat one or more of these essential colors. 
A few colors in variations in value (light and dark) and intensity(dull and bright) are wise choices for the rug. The number of colors should be varied, and one color should dominate.
Usually, it is best to use one color or variation throughout the carpet. About half the material should be this color. The other half can be about 35% of a second color and 15% of an accent color. A right proportion of a two-color scheme is about 60% of the dominating color and 40% of the second one.
Braided wool rugs or other fibers should not only lie flat but should look flat—the way the colors put together to influence the appearance of flatness. Avoid sharp contrasts and large amounts of bright colors.
Another way to make the rug "stay on the floor" is to repeat one strand of the same color in every braid throughout the area rug. Make some sample braids to see how well colors tones combine and to see the various twists that it uses in the whole rug.
Your wool braided rugs should match in size and shape to a particular space. To determine this, measure the area you wish the rug to cover. Oval braided rugs are easier to make than a round one and fit better with the other furnishings. It is better to use one sizable braided wool rug than many small scatter rugs.
Cut a paper pattern to the size of the desired rug. Fold this in half, and then in quarters. Mark the point of the length from the braid's center. This length is the difference between the height and the width of a completed rug. Then add one third to one half to its size as the rug widens faster than it lengthens. For example, a carpet 4 feet by 6 feet needs a center braid from 32 to 36 inches long.
Mark lines on the paper from the center to the edge 3/4 inch apart – or whatever is the width of the braids. Remember that the first one will be only a half braid. So if you plan three similar braids at the center, this sketch will show only 1-1/2 braids.
Count the number of rows needed. Sketch off the color plan for your braids. Vary the number of rows to avoid monotony. Darker colors used in increasing areas toward the outside edge helps hold the rug together.
CHOOSING SUITABLE MATERIALS
For wool braided rugs, use a 100% pure wool. Else, use materials of uniform weight to produce a right looking rug. Medium-weight or slightly heavy fabrics make an exquisite braided rug. Thin materials make a flat, narrow braid that does not stand wear and wrinkles easily when walked on it.
Wool fiber makes the best-braided rugs because it is soft and resilient, yet substantial enough to lie flat on the floor. It wears well, holds its colors, and resists soil.
Cotton makes a great rug but is more cumbersome, not so soft, and harder to keep clean. New and old material also may be used together, but it is better if they are either all wool or all cotton. Plain materials, stripes, checks, plaids, and floral designs are nice. With figured materials, those with an all-over pattern or with a dominating color are best.
How Much Material Is Used
It takes about one pound of medium-weight wool material for each square foot of the rug. Three square yards of medium-weight wool material weighing about 50 pounds of wool will be needed to make a 6'x9′ feet rug.
All materials should be clean and pressed. All seams should be opened or cut off if using recycled clothing. To obtain the necessary amount of color, you may dye some of the fabric.
CUTTING AND JOINING FABRICS
The next step to wool braided rugs or other materials making is to cut heavy material into strips 2-1/2 to 2-3/4 inches wide. Cut medium materials into pieces 3 inches wide; thin materials into strips 6 inches wide and fold the strips double. If the fiber is of different weight, cut the strips should accordingly so the rug will be even in texture. Pieces from one yard to one and one-half yards long are the easiest to braid.
Cut on the straight of the goods, either across the width or down its length. Some cotton may have torn here and there, but you should cut for wool. Strips should be joined with a bias seam. Place two strips right sides together with the second piece placed on the top and at right angles to the first. Allow the edge to overlap 1/4 inch. Stitch with heavy-duty thread. Trim seams to about 1/4 inch. Press seams open.
FASTENING THE BRAIDS TOGETHER
Always work on a flat surface. Use durable linen or carpet wrap and wax it. Sew the first two braids in the center, then the rest laced for a reversible rug. To fasten the braids together, use a braid more than twice the planned center. Place it on the table wrong side up with the finished edges of the braid on the outside and looped back.
Run a harmonizing gathering thread on the inside edge of the loop for about 5 inches. Pull the thread so that the braids are side by side, and the circles are flat. See together, keeping the stitches well hidden. Backstitch occasionally for reinforcement. Use another gathering thread at the turn.
That's it. You are good to go. Your braided rug is ready. Cheers.
We hope our article on "wool braided rugs" has answered all your doubts. In case you wish to speak to us or want to order for a braided rug sample, please contact Faisal International.