COWHIDE RUG LIVING ROOM IDEAS - Decorating With Cowhide Rugs Tips
Cowhide Rug Living Room
First, what Is Cowhide Rug? A cowhide rug is a naturally obtained product, which is the skin of a high-quality cow breed. The fluffy cowhide texture and the natural patchy pattern make them great for interior flooring and wall hanging.
How Cowhide Rugs Are Made?
Unlike hand woven rugs, the cowhide pattern is a design created by nature. So they are not handmade, but instead, they exist by tanning the animal skin.
The skin comes from legally supervised slaughterhouses.
After removing the animal's skin, it gets cleaned with ample water mixed with bleach. The bleach removes every dirt and stain from the surface.
The hair on the cowhide gets combed, making it look fluffier. By the method of tanning, the cowhide turns into an area rug.
The color and the pattern that the hide has is something that comes from its breed, and you cannot change.
Real Cowhide Rug Vs. Fake Cowhide Rug
Real refers to the original and the natural skin on a cow. The hair on cowhide is fluffy but bristly to feel by texture, hence not as soft as faux fur. Compared to the fake cowhide rugs, these rugs cost much more. Their price varies according to the type of cow breed, its size, and the rug's pattern formation. A tricolor cowhide rug costs higher. Brendel and Brazilian cowhide rugs can cost anywhere from 35-40 Sq.ft. , and every height is one hundred and ninety dollars.
Faux cow hide rugs are the fake or the synthetic cowhide rug. The synthetic faux fur cowhide is fluffier and softer than the hair on a real cowhide. A faux cowhide rug is way inexpensive compared to the real one.
Can Cowhide Rugs Be Used Outdoors?
Cowhides are long-lasting because they are leather. We know that leather does not relate itself well with water or wetness. Constant sunlight for an extended period on leather also does harm them. So it is quite obvious to understand that using cowhide rugs outdoors is not a good idea.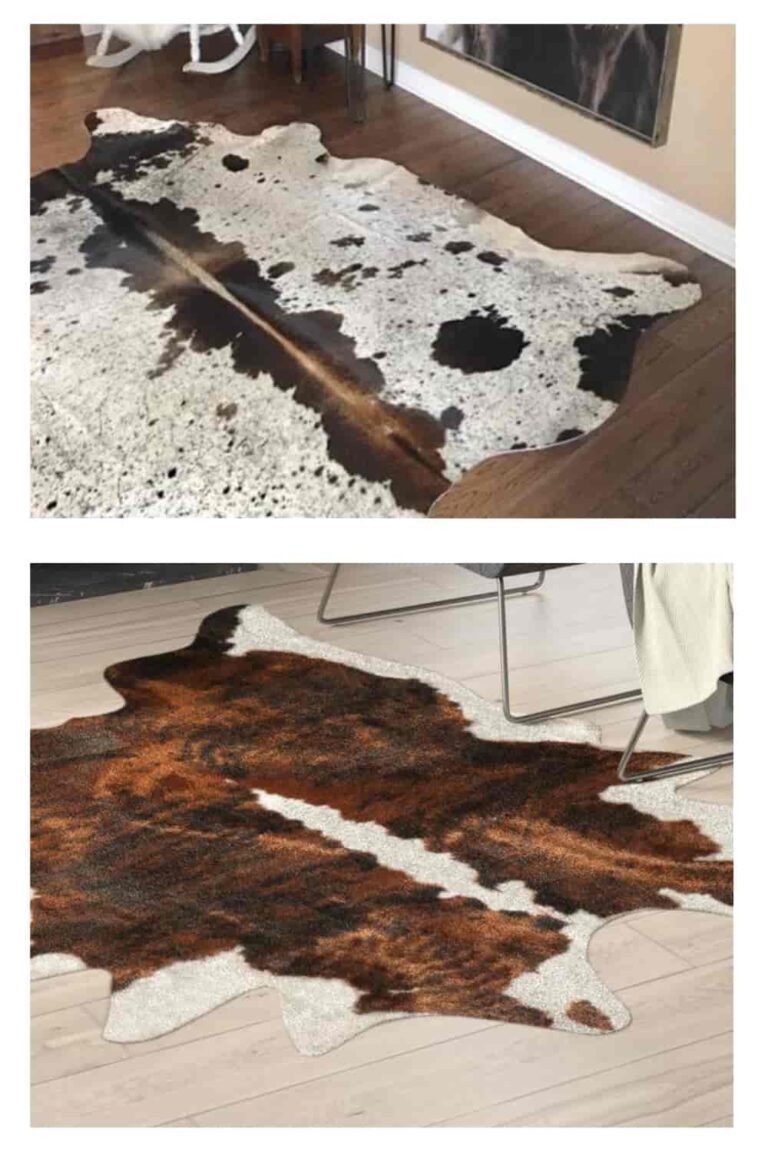 How to Choose Cowhide Rug In Living Room
A modern cowhide rug can make the home look great. If you're trying to figure out how to select the perfect hide, here is a brief guide to product selection. However, you can always consult with professionals who can offer high-quality cowhides while helping you decide.
Note these simple points given below for a better cowhide rug decor.
1. Consider The Size Of The Area
First, you'll want to think about the area's size to place the cowhide pattern rug. Measure the room and the size of a coffee table that might want to put on top of it.
Consider whether it looks good when partially hidden beneath furniture. Based on the room's size, you'll narrow down how much space is available for an area rug.
The next consideration is the maximum budget available for a patchwork cowhide rug. Here the size of the hide rug and its price are proportional. Larger rugs cost far more than a small cowhide rug.
3. What Colors Do You Want To Use?
Colors are the next aspect to think about, specifically what will match your interior decor. The most popular cowhide rug colors are brown and white or black and white, but in some cases, you might want to consider dark exotic or light beige options. Try to be open-minded, as the color that you wind up using may not be the original option you consider.
Cowhides also feature different types of hair, with some featuring short and sleek hair while others will have longer and curlier hair. Sometimes this isn't important and you may find that either style works. Most cowhides come with a short and sleek coat, while longer-haired coats are rarer and harder to find.
5. Go With What You Feel Would Look Best
You don't need to spend too much time deciding on the right cowhide rug for your home. Every cowhide rug is unique, and while you may have an exact picture in mind of what you want, it's perfectly acceptable to choose one that simply looks the closest to what you originally wanted.
You'll have a more enjoyable time making your selection if you're not worried about finding that "perfect" rug because in reality there's no such thing. Part of the charm of a cowhide rug is its imperfections that make it uniquely yours.
6. Pay Attention To Your Tastes
You don't need to worry about what friends advise you to get. Instead, stick with your tastes and preferences when making your selection, as it's going to wind up in your home, not anyone else's.
For the cowhide rug dining room, make sure the rug is large enough to lay under the dining table with all chair legs on it.
Keeping all of this in mind, you should be able to find the right cowhide rug for your home, whether you're looking for a natural or patchwork cowhide.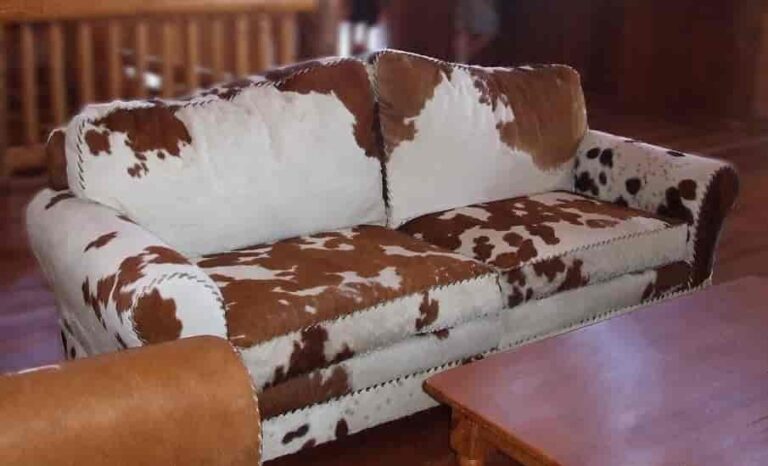 Wallcoverings

Upholster pillows

Bed covers

Cowhide couch

Embellishments from the cuts

Shoes

Guitar straps

Wallets

Belts

Bags

Purses
How To Display Cowhide Rug
In need of good quality, stylish rug for your lifestyle, but tired of your carpets getting worn out or even falling apart at the ends when you vacuum over it, long before they have paid for themselves? Then it's time to consider buying a cowhide rug for your home or office.
Never get carried away by failure when you think of a cowhide rug. Most people fall victim to the thought that a cowhide rug belongs to homes in Texas or on a ranch. Well, times are changing, and that is no longer the case.
Many people assume that all leather rugs are the same. As a result, they buy low-priced rugs that crack and lose in a few years. Cowhide is a very resistant and resistant product. When properly cared for, they will last a lifetime. Hard to tear or pierce, and will never untangle at the ends. The natural oils in a cowhide help resist dirt, which is advantageous in a home with animals or small.
A cowhide rug is also hypoallergenic, so if you have a loved one suffering from allergies, this rug will not cause any problems or outbreaks. You can never go wrong with them, making cowhide rugs an excellent choice from other synthetic rugs.
Turning cowhide into something that will suit any lifestyle in any town or city has become comfortable with modern technology.
Natural cowhides are all different in themselves. Coming from the skin of a cow, no two are alike. Even if you follow the trend of a cowhide rug in your home, it won't be like your neighbors!
The styles to choose from are endless. There are even exotic options out there. Today you can choose between zebra print, tiger print, leopard print, and the list goes on and on. With quality and care, cowhide can have various colorations and almost any pattern.
If you prefer the look of a beautiful, even rug, cowhides can do that, too. Many places offer round or oval cowhide rugs with designs on them. It is becoming increasingly popular to cut separate cowhide pieces to mix and match, then seed the parts together to design. The results have been impressive and still of high quality.
Cow skins are no more only for carpeting. They have become favorites as tapestries. Whether hanging on the wall alone or used as a photo backrest, they can bring a boring wall to the room's focal point. They are very versatile and are becoming very popular in all walks of life.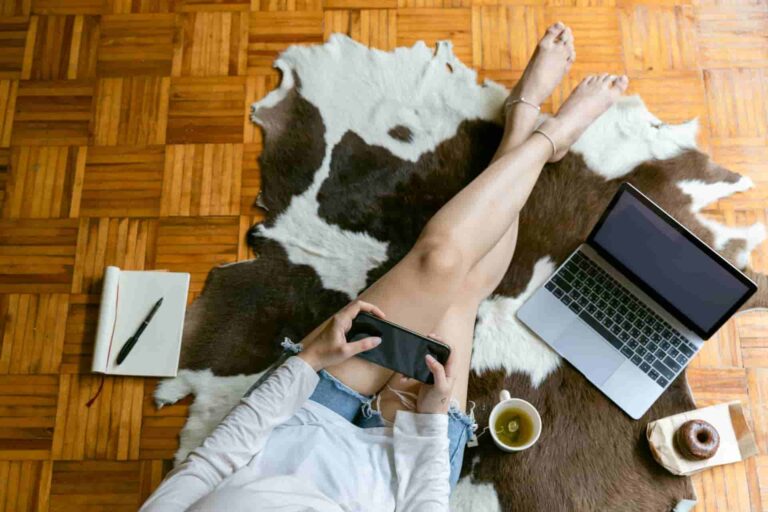 Cowhide Rug And Other Accouterments
Over the last few years, cowhide rugs and other related animal skins like camels, sheep, reindeer, zebras, and goats have come around all over amazingly in designing interiors.
Therefore, to keep them in excellent condition, cowhide and other animal skin rugs need attentive cleansing and constant blotch washing.
There are various tools available at every home through which one can easily use to clean a cowhide area rug to conserve them fresh and faultless for a more extended period.
Tools For Cowhide Rug Cleaning
An ordinary domestic sponge

A moderate cleansing soup

Hard bristle brush

A vacuum cleaner with an appropriate brush extension

For the highest cleaning of a cowhide rug, steam clear like Vaporetto will help penetrate deep into the carpet for better results..
After installing your cowhide rug at home, do regular vacuuming to avoid the skin rug from getting contaminated and prevent it from inessential deep washing.
Clean the rug in the direction of its fundamental nature by using the brush extension on the vacuum cleaner.
Frequent cleaning of leather rug will guarantee you that the bits of ash-blond mud do not begin to cut the fur.
When cleaning a cowhide rug, always prevent it from getting wet. A soothing steam cleaning by yourself is good without adverse consequences.
The fur within the animal leather is a product of tanned animal stuff.
Fur skin turns back the water, wetness, and retains the animal moderately water-less.
When cleaning the skin, if, unfortunately, it obtains wetness, then the best way to get rid of it is to dry in the sunlight naturally.
On the condition of having any germs and bacteria, then sun-dry is the finest course of action to kill them.
It is an excellent idea to shed blot, stain, or dirt with a non-alkaline detergent cleanser.
Leather mild soup will affect with deformities on a delicate, without a skin hide, but as far as the skin is concerned, then a baby soap or a shampoo is perfect for cleaning the skin with hair.
Wipe the skin in the dirt direction, blot softly with a foaming foam on a sponge.
In the end, wash out nicely with a wet sponge to remove the sop remains that rest on the rug.
By the utilization of Scotchgard, it will assist the carpet in pulling out more smirches. The cowhide will remain outstanding and marvelous in flawless order.
How To Clean Cowhide Rug Dog Urine
In a glass of water, put some vinegar and make a solution.


By using a sponge, apply the solution and dap the spotted area.


Leave the rug to dry naturally.


Sprinkle some baking soda to kill any bad smell from the rug.


Next, remove the baking soda from the rug's top by vacuuming it.


Gently brush the rug with soft bristles to make it fluffy.
Patchwork cowhide rugs style up the floor very differently in a fabulous fashion, but wait, what are they?
Making a cowhide patchwork rug is by cutting pieces of cowhide/leather and binding all cut pieces together by stitching to form a rug piece.
Place modern cowhide rugs in a living room or any open space where the patchwork art is at its optimal view.
Any area you choose to place them, just keep in mind to prevent it from moisture or wetness. They are more durable in dry areas and help prevent odor.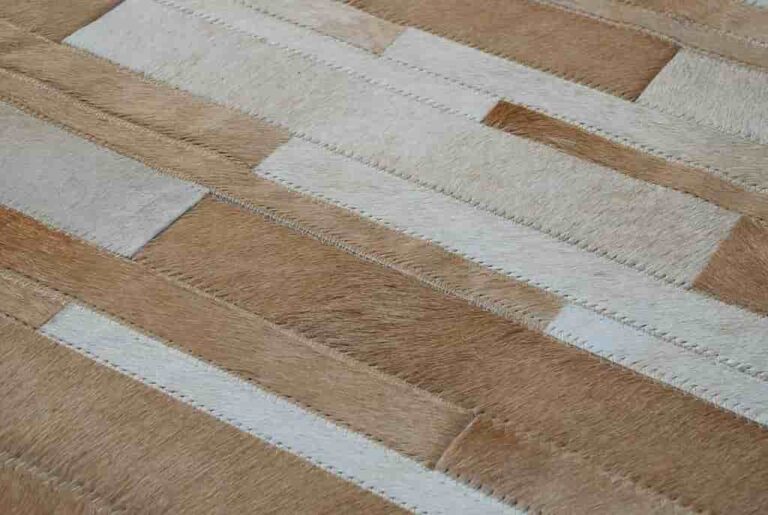 Are Cowhide Rugs Durable?
Of course, a cowhide carpet is a leather flooring. Leather can last for long if taken with proper care.
To make cowhide rugs durable for a longer period, take care of two essential points:
Avoid laying it in wet areas. A damp leather often gives off a lousy dump smell.
Also, avoid placing it under direct sunlight. Overheating of the leather can tend to weaken the leather and show cracks when folded.
Every rug needs proper care and maintenance. So can cowhide rugs be vacuumed? Yes, of course, and you must do that regularly. While vacuuming cowhide, make sure not to press the nozzle too hard to the rug's surface.
The small applies while cleaning as well, do not use a tightly compact bristle brush to comb them. Brushing hard may result in damaging the hair fixed to the leather skin.
Layered Cowhide Rug Living Room
So how to layer cowhide rugs?
Rug layering is an art of placing a rug on top of a carpet or a rug.
A layered cowhide rug is one of the top-notch rug styles used for layering on top of a carpet and an area rug.
When layering a cowhide over a carpet, check out for:
The perfect shade of the hide rug. Other than the black and white cowhide rug, also check for a grey and white cowhide rug, brown, solo white, solo black, tricolor cowhide and others.
Next, pick the right size. Calfskin rug is ideally the best if looking for a small size hide rug for placing under a coffee table.
For the base use a low profile

jute rug

with cowhide layered at the top.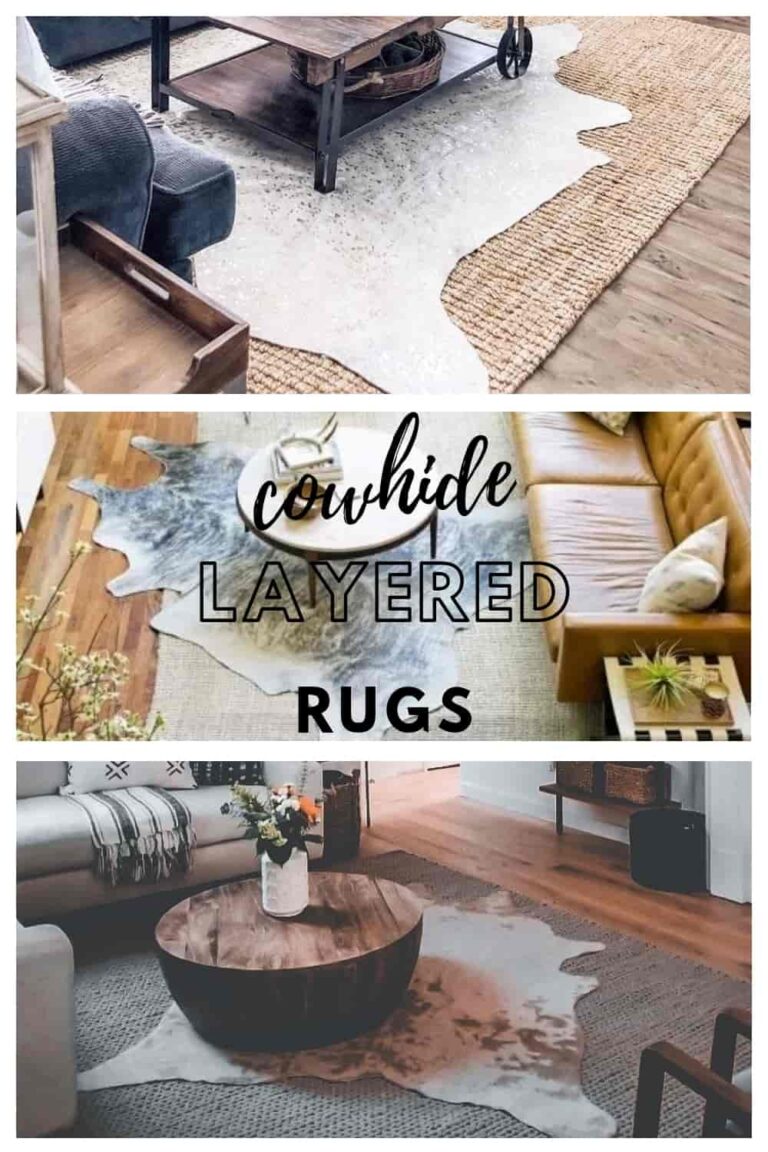 Advantages And Benefits Of Cowhide Rugs
Cowhide area rugs are acclaimed globally for its stern-most hypoallergenic quality, and it is very helpful in reducing the disfavor microorganism free-floating around your living spaces.
A cowhide rug is different from its synthetic fellow rugs, and they do not catch allergens easily.
Other than the natural colors, solid dyed cowhide rugs let you match with the interiors perfectly.
They are also widely used as wall hangers.
Regular vacuuming or taking your hide carpet in an open area and jerking off the dust will relieve you from dust particles present in the rug.
It is comfortable to place them effectively in your home, be it your living room, bedroom, dining room, or even under your staircase.
Cowhide pattern rugs come in a variety of colors suitable for any interior decoration. They are resistant to steady foot traffic.
Cowhide rugs can easily beat off any liquids that help them support their proper shine and colors for more duration.
They are durable as they are a product of various leather.
They are nearly no comparison with the warmth given by genuine rugs of this variety, particularly in the cold season.
Where Can I Buy Cowhide Rugs?
They are many places one can easily buy cow skin rugs. Here is a list of top 10 places to buy cowhide rugs online.
1. Amazon
2. Wayfair
3. Walmart
4. Overstock
5. Etsy
6. Ebay
7. Apartmenttherapy
8. Westelm
9. Cb2
10. Ikea
We hope our article "Cowhide Rug Living Room Ideas" was of some help, if there is any question or your own decoration ideas for our readers, please contact us.