HOW TO PICK A RUG PATTERN
How to pick a rug pattern? Rug patterns can make that real difference and change the look of the entire room. This article is about how to choose a rug pattern—this small but handy guide is all about area rugs and their pattern designs. Hopefully, by the end of this, you will know which one is right for you. So without further ado, let's jump in and learn some of the popular ones that you can choose.
Popular Types Of Area Rug Patterns
Before you think of how to pick a rug pattern, take a note here. In the world of carpets, some of the most popular rug designs and patterns are three types-
Floral Pattern

Geometric  pattern

Southwestern pattern
The first pattern we're going to take a look at is floral. Floral rug design patterns offer a feminine touch to any room. How it looks depends on the style and color of the floral pattern. This abstract floral can work in a contemporary or modern home while the traditional floral is perfect for a country or cottage style space.
For a timeless look, try an oriental rug. Persian oriental rugs are versatile because they are vibrant in color, and honestly, they're perfect for any design style. The distressed oriental rugs are trendy right now. The distressing makes this traditional pattern feel much more casual.
Floral rug patterns bear in them designs of different types of flowers. Rugs with leaves only are adorable too. Floral pattern carpets may be with or without leaves, trees, branches, flower buds, and plant stems. Most of the time, they are a mix of design patterns to create newer styles. They bring the essence of nature into the house, making you feel closer to life itself.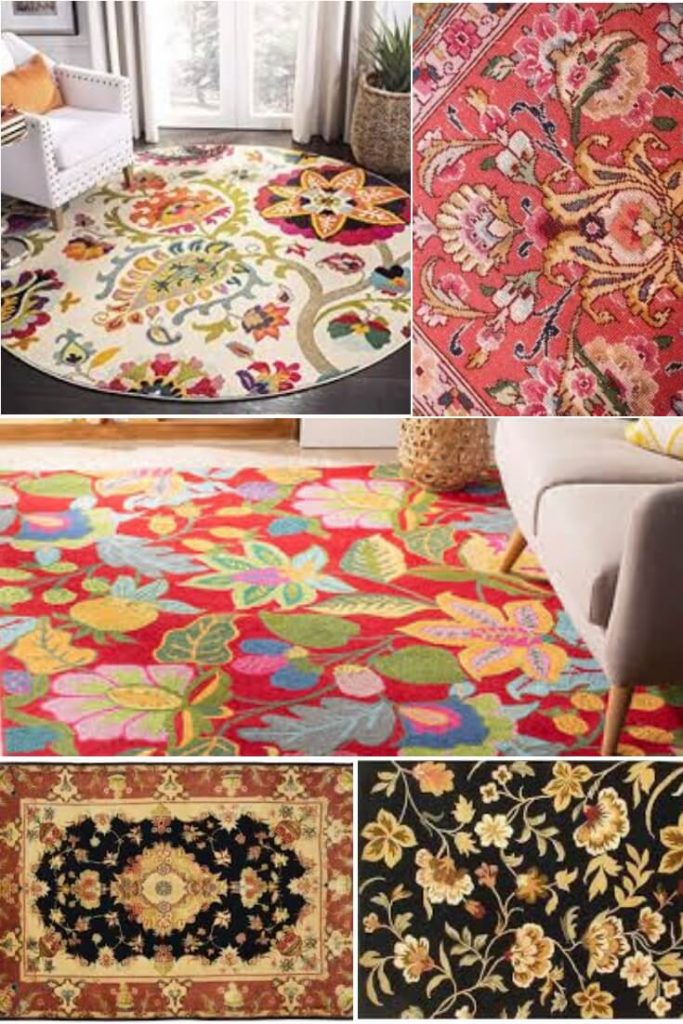 For something different, try going with a geometric pattern. Geometric designs on rugs provide crisp, clean lines in your design. So look at models like circles, hexagons, or even diamonds. These rugs are more modern and eclectic so you can have a lot of fun with them.
A twist in the geometric carpet is going to be chevron. Chevron is a design that's been popular over the years and looks like a zigzag. Chevron can go two ways; it can either be bold or more classic with tone on tone.
Not every rug needs to have an intricate design. Geometrical cool rug designs can do wonders on area rugs. Some rug pattern names other than squares, triangles, or circles, to go for more different creative styles are chessboard, herringbone, stripes, etc.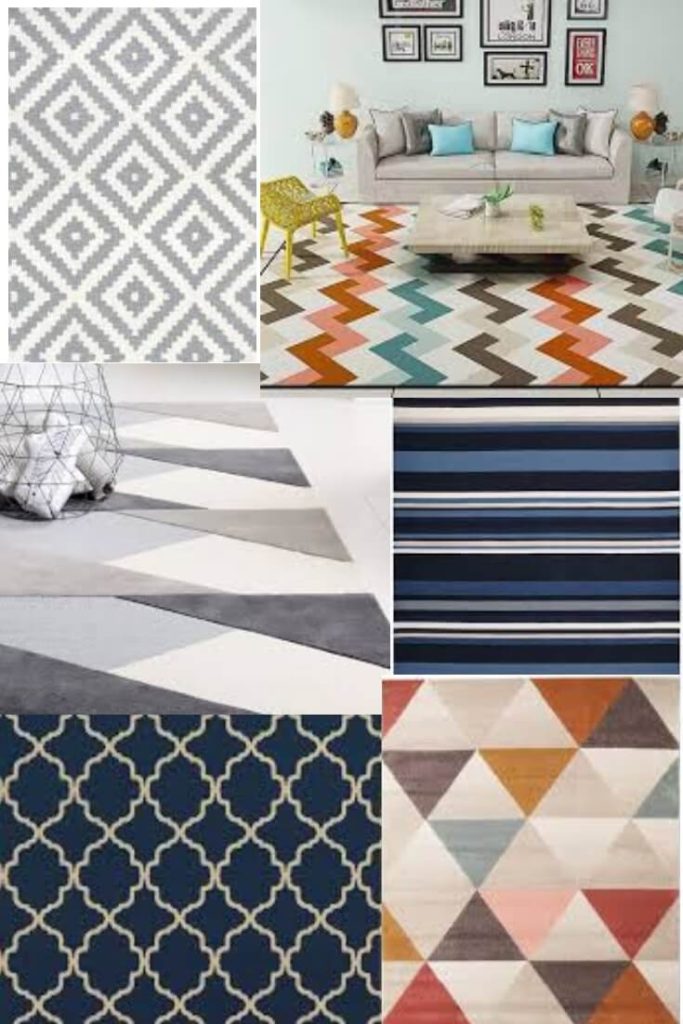 SOUTHWESTERN PATTERN RUGS
Finally, let's look at the Southwestern style rugs. Southwestern design is probably everyone's favorite. Southwestern design pattern provides an eclectic and a little bit more rustic look. Also, so many different colors and tones work well with southwestern, especially the ikat version. Ikat is a curvy tribal pattern that works well in homes of all styles.
A Southwestern pattern is more traditionally known for the diamonds. Ikat is going to be a little bit curvier in tribal. Both of these are great for any style of home. So there you have it now it's time to go start having fun with patterns in your home.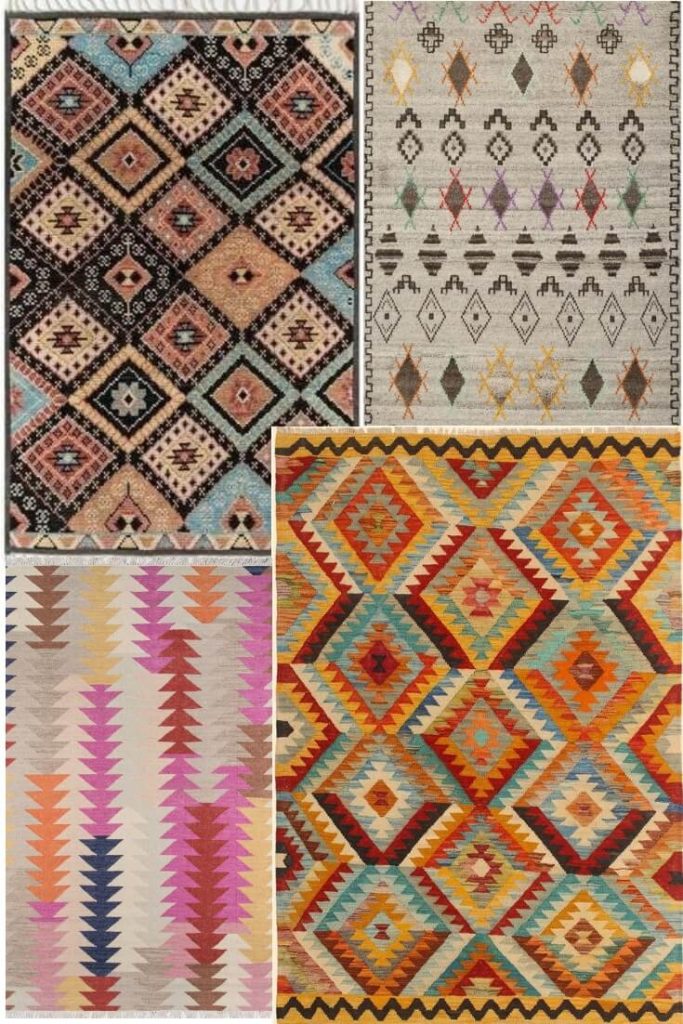 Learn How To Pick A Rug Pattern
Now you know the different rug pattern types, but is that it? The best part comes in now in knowing how to choose the right pattern for a specific space. Here is one question for you. Take one minute and answer it to yourself. Assume you are in a carpet store and find several rugs in all sizes and colors. Now the question for you is, what kind of rug will you select?
Let's guess, the red one with white strips! Maybe your favorite 'Fleur De Lis' pattern! One with a silk touch or the low pile one? Three, two, and one, times up. You are still wondering and doubting over your own choice, right? Well, this is normal, so do not worry. Here is a simple two-step rug pattern guide you need to follow:
Follow the color: Note the primary color around the space, particularly the furniture. If the color of the sofa is sharp, then go with the same. For the secondary and the other minor colors, consider matching up with the pillows, curtains, or the wall.
Follow the pattern: This next step is the real deal. It will be an unusual and unique style if you get an essence of the surrounding interior design or pattern on the rug. For this, you will need a custom design rug that matches the profile of your curtains, pillows, or wallpaper. Go for it. That is the key to stand out from the usual and boring home decors.
Click the link ahead to learn how to pick a rug for bedroom and how to pick a rug size.
Note: If you choose a floral pattern rug, make sure the rug's primary color (background color) matches the room's primary color. If you do all this in its right way, you know how to pick a rug pattern for your space.
How To Choose A Rug Material?
Choosing the right rug material is very crucial. To begin with, first, think about the area of its placement. For example, it is not ideal for picking a wool area rug for the outdoor and bathroom. For this, go for a synthetic material rug like nylon. Wool material is the most popular among all but is costlier than synthetic, which is much inexpensive. Wool rugs, although they are not cheap, they are an excellent investment. Some of the rug materials are wool, polypropylene, viscose, polyester, nylon, linen, silk, cotton, etc. Click rug material for more details.
Should Rug Match Wall Color?
Of course, besides knowing how to pick a rug pattern, matching the rug with wall color is one of the prime objectives to get a perfect rug color combination for any space. The other things that should look upon are matching the color and the pattern with the furniture, curtain, etc.
How To Choose A Rug Size?
Rug size depends upon the size of the space. It may need a larger rug size in a living room than a bedroom. It's more about the area where a rug is to place than any particular area rug in a space. Learn more about rug size
How To Choose A Bedroom Rug?
For a bedroom rug, go with the size of the bed rather than the size of the room. Take a glance at the link mentioned above and learn about bedroom area rug sizes and proper placement methods. If space is too lager, opt to cover the extras with a matching runner rug. Then select the right material and the rug from several types of area rugs.
If you have any confusion on how to pick a rug pattern, contact us for expert advice from our designers.
HAPPY RUG PATTERNING.